ONLINE GERMAN LESSONS
German is one of the most spoken languages in the world, with over 100 million speakers. It will certainly come in handy if you're planning to move to a German-speaking country in the near future, such as Germany, Austria, Lichtenstein, or even certain parts of North Italy. Also, being proficient in German will open up professional doors if you're planning to apply for an international job or if you want to work within the German market. Regardless of your linguistic goals, we can help! Contact us at Listen & Learn and we will start preparing a personalised programme for you to study at your own pace.
What will you learn?
Our online German courses are completely tailored to your needs and interests. Your instructor will always consider your preferences when planning the lessons, so you're always motivated to learn! For example, if you're interested in movies and TV series, like Dark or The Downfall, you can always acquire German by watching and examining them with your teacher. The choice is yours!
Who can study German with us?
Don't worry if you've never spoken a word of German before. We have a special course for beginners called Survival German, where you'll learn basic expressions, vocabulary and grammatical structures, such as greetings or requests, so you can hold a basic conversation in a short time. Furthermore, as your teachers are native speakers of the language, you'll be exposed to German from the very first lesson. This way, you won't have to wait until you have an advanced level of the language to start fine-tuning your pronunciation.
Why take an online German course?
Our online classes are safe and comfortable. You don't have to leave home and waste precious time commuting to study German!
As nobody has to travel anywhere to take the course, you can contact your teacher with just one business day's notice to reschedule your lessons.
You don't need sophisticated equipment to get started. Just turn on your computer or smartphone, download Skype and you're ready to go!
Study alone or take your German classes in small, closed-group sessions with up to 8 family members, friends or co-workers.
These are completely free and will take no more than 15 minutes


German
Level Test
Find out your level!
---
Top Tips For…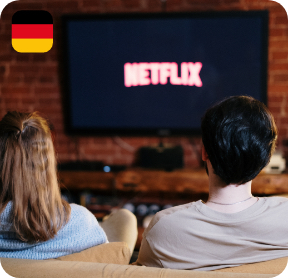 Babylon Berlin is the perfect choice for those looking to learn more about German history while improving their vocabulary and understanding of the language. Set in 1929, it follows Police Detective Rath, a troubled professional who comes to Weimar to investigate a terrible crime and ends up uncovering a political conspiracy that puts his life at risk. Praised for its historical accuracy, you will learn a lot about Germany during the Weimar Republic era by watching Babylon Berlin, and practise your German comprehension skills at the same time. Furthermore, you'll hear conversational German, which can be quite different from the language that features in textbooks.
Click here to know more about this gripping series
This Bavarian festival has been celebrated since the 17th century and, today, it is replicated all over the world, including in the UK. Meet up with your friends to enjoy delicious German food, like strudel or bratwurst, and taste high-quality German beer. Impress your friends and loved ones by ordering food in German with your flawless pronunciation. Plus, many bands that perform at these events sing in German, so you'll get to put your foreign language skills into practice more than ever before. Slip into some Lederhosen or Dirndls and prepare to drink and sing all night long at this fantastic event.
Follow the official page for more info on Oktoberfest!
If you'd like to take your German listening skills to the next level while having some fun, watching hilarious movies, like Goodbye, Lenin!, is a great idea. The movie is set in communist Germany in 1989. In this context, a woman named Christiane suffers a heart attack and falls into a coma. When she finally recovers, the Berlin Wall has fallen and Germany is no longer communist. As the doctor warns her son, Alex, that a new shock could kill her, the film follows his series of absurd and hilarious attempts to protect her from the truth.
Click here to find more about Goodbye Lenin!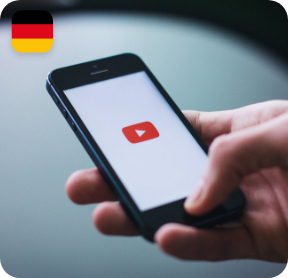 Gronkh is a German gamer who expresses his feelings while playing games on his computer and consoles. His channel is great for advanced-level students who love games and want to increase their German vocabulary and slang by watching fun, entertaining videos. Although he uses many idiomatic expressions that will likely be unknown to beginners, his cadence is slow and his style is well-known to gamers, so you won't have problems understanding what he is saying. Anyway, if there is something you don't understand, you can always turn on YouTube's auto-generated subtitles.
Watch his videos here!
Are you looking for entertaining videos in simple German to build up your vocabulary and develop your listening comprehension skills? Then, you should definitely subscribe to Yummypilgrim, a YouTube channel that deals with topics like food, travel and lifestyle. Beginners can watch her easy-to-follow recipes, as the pace is slow and everything the YouTuber says has corresponding subtitles. One of her most interesting playlists is called "Food Haul", where she buys food from around the world and tastes it, explaining what each item is and where it is from.
Watch her content here!
German brothers Julien and Lee create parodies, stunts and pranks, usually shot with slow motion. They have a great production team, so the quality of the channel is frequently praised. Even their behind-the-scenes videos are fun! The content is really entertaining to watch and it's a great opportunity to acquire some informal vocabulary and slang. The channel includes subtitles and even highlights key words, so the videos are easy to follow and understand, even if you're a beginner-level student.
Click here to subscribe!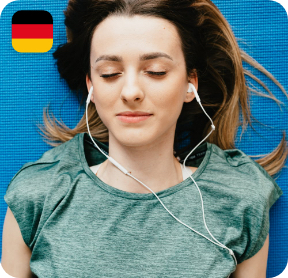 Lili Marlene is a popular love song that has been covered by countless German artists. Marlene Dietrich's version is the most well-known because of its slow cadence and the singer's beautiful voice. The lyrics are captivating, with lots of descriptive adjectives that make it perfect for intermediate German students who want to increase their vocabulary while listening to great music. For example, you'll learn words to describe people, like stunning (atemberaubend), beautiful (wunderschönen) or bewitching (bezaubernd). Keep the lyrics to hand and give this song a try at karaoke with friends!
Listen to the song here!
There are a lot of protest songs in German, which are great not only to put your language skills into practice, but also to learn about the country's history and culture. The song 99 Luftballons describes the political situation of Germany in the 1980s. It talks about people in West Germany releasing helium balloons, which are viewed as missiles by East Germans. This song will be better understood by advanced students of German, as it includes a great variety of tenses and vocabulary related to war and politics, like ministers (Ministerin), president (Präsident) and missiles (Raketen).
Listen to the song here!
Rammstein is an iconic German band that produces music that caters to every taste. Even if you're not a true fan of industrial metal, you'll certainly find songs you like to practise your German skills and increase your vocabulary. For example, Du Hast is a very popular song that has been used in well-known films, like The Matrix, so you'll certainly recognise it from the start. It's easy lyrics (Du hast - You got me) repeat many times throughout the song, making this song a great option for beginners looking to learn German through music.
Listen to the song here!
ENGAGING. CONVENIENT. PERSONALISED
Sign up for our face-to-face language courses in your city. You'll be fluent in no time!
Send us a quick enquiry