ONLINE ITALIAN LESSONS
Are you a business owner planning to enter the Italian market? Would you like to enhance your professional skills? Would you like to visit Italy soon and make the most out of your experience? Then, acquiring the Italian language will certainly come in handy. Sign up for an online Italian course with us at Listen & Learn and you'll become fluent in a short time with fun, motivating lessons.
What will you learn with us?
If you haven't studied Italian in the past, we'll get you started with a Survival Italian course. Throughout, you'll learn basic grammar and expressions, like greetings (ciao, salve!, buona sera), polite requests (per favore, scusi) or ways of saying thank you (grazie, grazie tanti). Graduates of this course and more advanced speakers will then continue with a tailor-made programme designed to suit each student's needs and schedule.
All our courses follow the communicative approach, so your teacher will expose to the language from the very beginning. Our tutors are native speakers of Italian, meaning you will start improving your speaking and listening skills from the very first lesson. Plus, we use fun, real-life materials, like movies, TV series, books, games or songs, so you always feel motivated to study. Just talk to your teacher and tell them if you want your lessons to be planned around studying the works of great singers, like Laura Pausini or Tiziano Ferro, or if you'd like to read Dante Alighieri's Divine Comedy in its original language. We adapt to you!
Why take Italian online lessons?
Record your virtual classes for further review, so you can assess your own progress and revisit modules.
You don't need to be tech-savvy to take an online Italian course. You only need a stable Internet connection and Skype.
You can reschedule your sessions with just one business day's notice, as nobody has to commute to learn Italian.
Study alone or in small, closed-group classes. If you have friends or co-workers interested in learning Italian online, they can join you! Please note that the maximum number of people allowed per group is 8.
These are completely free and will take no more than 15 minutes


Italian
Level Test
Find out your level!
---
Top Tips For…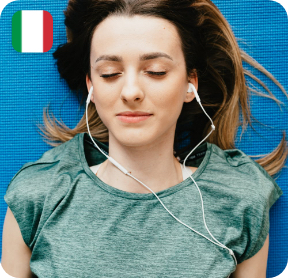 This is an old song (from 1982) by Albano Carrisi who speaks about being happy, satisfied, optimistic, and excited about life and love. This song is upbeat and catchy, so you'll not only acquire some new vocabulary and Italian grammar, but also you'll feel light and happy after listening to this song! You'll become familiar with definite and indefinite articles, like "la felicitá" (the happiness), "um cuscino" (a call), or "uma telefonata" (a call), too. This piece also makes use of the imperative form, so you'll polish your grammar skills, as well.
Click here and musicalise your day!
Baciami Ancora is the main theme of a famous Italian movie with the same name and which won an award for Best Original Song. about it explores a crazy affair between a man and a woman who fell in love after just one kiss, and how he would do anything to feel that way again. This piece is rich in imperatives and infinitives, so it's a great opportunity to learn verbs, like baciami (kiss me), stare (to be) or invecchiare (get old), and practise their pronunciation. Listen to this song and soon you'll be able to speak to Italians about love!
Click here and let Jovanotti musicalise your day!
Laura Pausini is one of the most famous female Italian singers of all time. She even sings in Spanish and English! Pausini's songs are usually about love and heartbreak, and this piece is no exception. Resta in ascolto is about a woman talking to her lover, telling him that she misses him and thinks about him all the time. Even if she was the one to end the relationship, she never gives up hope they can get back together. Laura sings very quickly and uses different tenses in the lyrics, so it's more suitable for intermediate and advanced students of Italian.
Enjoy Laura Pausini's hit here!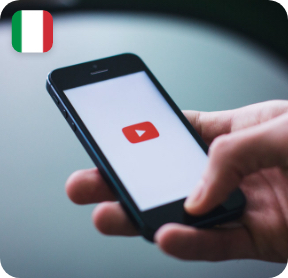 Fancy a lifestyle and beauty channel to watch while improving your Italian? Then, subscribe to Adriana Spink's channel. She's a fashion blogger who covers makeup trends and hair beauty in her videos, so you can watch her tutorials and get some inspiration for a fresh summer look. Also, she reviews brands and visits big Italian stores to show off that particular season's clothes, so you can have a look at Italian fashion without leaving your home. She's also a teacher, so you'll see that she speaks in a clear, slow way that is easy to understand.
Watch her videos here!
Looking for movie reviews where you can enjoy the best of cinema while polishing up your Italian skills? Subscribe to Yotobi's channel: you won't regret it. This page is run by a man who'll give you his take on the newest films and TV series from a humorous point of view. His videos resemble other popular channels, where he engages in virtual conversations with fans or reads comments they left in previous videos. All of his content has English subtitles, so it's great material for beginner, intermediate or even advanced-level students of Italian.
Watch his videos here!
YouTube features a lot of Italian comedy channels that can help you become more fluent and get familiar with new terms and expressions, such as WillWoosh. This channel is run by a group of friends who do silly things around Italy, talk to the camera and discuss fun (and sometimes controversial) topics. They speak fairly quickly and use slang and conversational phrases, so it might be a bit hard to understand if you're a beginner. However, you can always turn on the subtitles to keep up with the conversation! The channel has more than 100 videos, so there will surely be something to your taste.
Watch his videos here!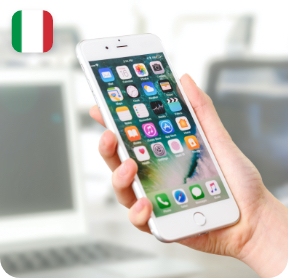 Busuu is a great learning resource that can be accessed by users who have iOS and Android. Just download the app to get started! It contains self-paced lessons and materials that will help you practise grammar rules and vocabulary. For example, you can access flashcards and matching games where you must pair a word with an image that represents it and an audio file that features its correct pronunciation. The best part about Busuu is that you can use it to find language learners from every part of the world who want to learn and improve their Italian skills as much as you.
Check out this app here!
Verbi Italiani is an amazing resource for those who have doubts about how to use verbs in Italian. Just type the verb you need in a box and press "Conjugate" to obtain dozens of results with their corresponding explanations. For example, know the difference between mangiare (infinitive form of "eat"), mangia (he or she eats) and mangio (I eat). The app features more than 10,000 verbs, so you will surely find the one you are looking for. The app is suitable for beginners, intermediate and advanced-level students of Italian, so keep it installed on your device for when you need it!
Check out this app here!
Do you want to improve your Italian skills but only have a few spare minutes each day to practise? Italian by Nemo might just be your perfect companion. This app offers interactive games and flashcards to increase your vocabulary and help you to understand how certain colloquial expressions are used. You will also learn some functions of the language, such as greetings or requests. The best part is that you can use the app without an internet connection! So, whether you are on the street, at home, or even on the plane, you can put your skills to use.
Check out this app here!
ENGAGING. CONVENIENT. PERSONALISED
Sign up for our face-to-face language courses in your city. You'll be fluent in no time!
Send us a quick enquiry