ONLINE PORTUGUESE LESSONS
---
Top Tips For…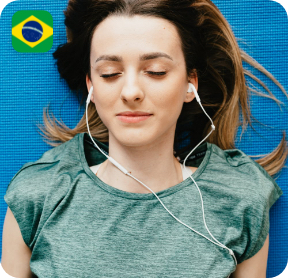 Do you like jazz and are looking for new melodies in Portuguese to improve your language skills? Then, Amar pelos Dois is the track you are looking for. It talks about a man who lost the love of his life and describes all the hardships he has to endure to try to find it again. As it's a track that talks about a lot of figurative situations and uses future subjunctive as in Se um dia alguém preguntar por mim (If one day someone asks me, say that I lived to love you), it's more suitable for intermediate or advanced students.
Check out the song here!
Looking to improve your European Portuguese skills while listening to a great song? Then, Tu e Eu is a great option for intermediate and advanced students to take their vocabulary to the next level, while improving their comprehension and pronunciation. This track is a romantic piece that describes the feelings between two childhood sweethearts that get together after decades of not seeing each other. With phrases like Se a idade não perdoar, e quando não me ouvires cantar, you'll get to see how the future subjunctive is used in context, while learning pronunciation specific to Portugal.
Check out the song here!
Are you looking to learn European Portuguese but find it hard to find TV series and songs that help you improve your pronunciation and comprehension? Look no further than Raquel Tavares' music. Meu amor de longe, for example, is a fado song, characterised by a mournful tune that sings about the sea and a lost love. With this track, you'll get familiar with saudades, a term that refers to a feeling of nostalgia about something that may or may not have happened. It's also full of words about love and loss, so it's a great chance to build up your vocabulary!
Check out the song here!
portuguese

Youtube Channels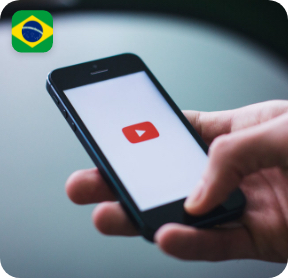 If you are bored of watching the same type of content on YouTube all the time, then you should try Wuant's channel and take advantage of the opportunity to learn Portuguese at the same time! Wuant uploads content that touches on a wide variety of topics, from travel vlogs to popular memes in Brazil, curiosities about their culture, art and music commentaries and even experiments. This means that, besides learning new expressions in Brazilian Portuguese, you will surely get to know more about their culture and traditions.
Click here to subscribe!
portuguese

Youtube Channels
This YouTube channel is run by actor and comedian Julio Cocielo, who posts parodies, vlogs and interviews with other celebrities. He also covers major events in Brazil (such as sporting events or elections), as well as personal stories, so can enjoy a window into life in Brazil (in addition to learning a lot about their language). For example, one of his most popular videos features him proposing to his girlfriend, so this is a great opportunity to learn vocabulary related to love and relationships, such as casa conmigo? (marry me), um casal (a couple), meu namorado (my boyfriend), and more.
Click here to subscribe!
Are you struggling to find real-life materials to develop your listening skills as a beginner Brazilian Portuguese learner? If that's your case, you should subscribe to Hello Rusty's YouTube channel! This space is run by Rusty, a Brazilian teacher who is passionate about teaching Portuguese to speakers of other languages. She covers basic grammar (such as the alphabet, how to conjugate regular and irregular verbs, punctuation) and vocabulary. Plus, she has materials on how to pronounce words correctly while doing something meaningful, such as preparing delicious brigadeiro.
Click here to subscribe!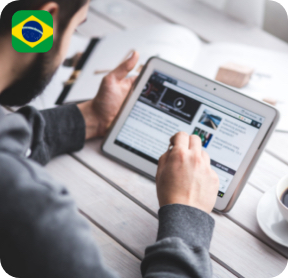 Folha de Sao Paulo is a great channel to keep up with what is going on around the world while practising your language skills. This channel is more suitable for advanced students of Portuguese, as analyses of the news are detailed and make use of advanced vocabulary. The organisation also has a website where you can read news articles related to politics, cinema, international affairs, climate change, and more. Keep in mind that there is a paywall, so you will only be able to read a couple of articles per day before you have to pay.
Read the news in Portuguese here!
Diário de Notícias is a superb online resource for those looking to learn European Portuguese while staying informed. On this website, you will find articles about what is going on in Portugal and around the world. You can find articles related to sports (desportos), opinion (opiniao), culture (cultura), or the country (país), along with their relevant vocabulary. The articles are usually long and use complicated terms, so they are more suited for intermediate to advanced students. The videos don't include any subtitles, so take this into account if you intend to watch them.
Read the news in Portuguese here!
Veja is a popular news channel in Brazil, famous for its weekly magazine that can be found in every single waiting room and news stand across the country. In addition to the printed version, you can find the magazine online (non-subscribers can read 3-4 articles a week for free). Some of the topics they touch include fashion, international news, celebrities, and others. Go from knowing nothing to a lot about any topic by reading one of their long, informative articles that will introduce you to the most useful and common Portuguese vocabulary.
Read the news in Portuguese here!