ONLINE RUSSIAN LESSONS
Russian is one of the most spoken languages in the world, with more than 250 million speakers. If you ever plan to visit Russia, want to take up higher education in one of its universities or want to enter the Russian market, you should know that only 2% of the population is fluent in English. So, being proficient in Russian will be crucial to get by. Contact us at Listen & Learn and get started with an online Russian course!
Our Russian instructors
Russian can be a bit intimidating if you've never studied it before, as it has a completely different writing system from English, called the Cyrillic alphabet, more vowels (they are 10) and even two letters that cannot be sounded. Plus, the order of words can change depending on case. But don't let this stop you! Our instructors are professional native-speakers with years of experience guiding students to fluency. So, you'll not only be exposed to the language from the very first lesson, but you'll also have access to tips and advice on how to become fluent in a short time.
What you will learn with us
If you're an absolute beginner, we'll get you started with our Survival Russian course, where you'll get familiar with the Cyrillic alphabet and essential vocabulary, like greetings (Доброе утро "good afternoon") or apologies (Извините "sorry"), so can start to have basic conversations. The more advanced you are (or become), the more your teacher will tailor your lessons to your specific goals and interests.
Why take online Russian lessons?
Enjoy more convenience. Our online lessons are far more convenient than our face-to-face classes. Just turn on your computer or smartphone and you're ready to go!
Online Russian lessons have more flexibility. Neither you nor your teacher will have to leave home, so your instructor can be a lot more flexible when rescheduling lessons. Just contact them with one business day's notice to rearrange your class.
You only need simple software. Just download Skype and get started! In case you experience any technical issues, our agents can help you set up and test your equipment, so you know you will be ready for your course to begin.
Decide if you want to take individual or small-group sessions. You can study alone or with up to 8 friends, family or co-workers.
These are completely free and will take no more than 15 minutes


Russian
Level Test
Find out your level!
---
Top Tips For…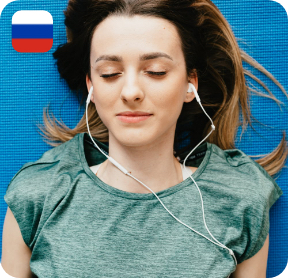 Practising outside the classroom is essential when learning a language, in particular when acquiring one as challenging as Russian. So, a great way to improve your skills is by listening to music in the target language. For example, Kalinka-Malinka is one of the most well-known Russian songs in the world, written in 1860 by Ivan Larionov. If you're looking for a light-hearted, cheerful song, this is the track for you. This song is a great way to learn new vocabulary, such as kalinka (a type of tree with red berries), malinka (a sweet fruit) and саду (in the garden).
Listen to this amazing folk song.
If you're just starting your Russian course, use children's songs to quickly develop your vocabulary, pronunciation, and listening skills. This track is about the first word children usually say: "mama". The cadence of the music is slow and the singer sings very clearly, so it's a great option for beginner and intermediate-level students. In addition to mother, some other everyday words, like life (жизнь) and sleep (спать), plus some words related to the family, like daughter (дочь) and son (сын).
Listen to this catchy tune here.
There's no better way to learn a language than by using real-life, motivating materials, like songs and music. If you are up for a challenge, then listen to "Куда Yходит Детство" (in English: "Where Does Childhood Go?"), a nostalgic song about childhood and remembering our years of joy and youth as we grow older. So, by listening to this catchy song, you'll learn the helpful vocabulary and everyday verbs you will need in case you have to communicate in Russian, such as найти (find), попасть (get there) and здесь (here).
Click here to listen to this hit!
ENGAGING. CONVENIENT. PERSONALISED
Sign up for our face-to-face language courses in your city. You'll be fluent in no time!
Send us a quick enquiry