ONLINE JAPANESE LESSONS
Japanese, with its own writing system, a different way of counting and complex grammar, can be a challenge for English speakers. But don't worry: so long as you're truly motivated to learn, we can help you! Whatever your reasons for learning the language, be it for travelling, socialising or for professional reasons, you can acquire Japanese in a short time with our professional, native-speaking instructors at Listen & Learn. Contact us today and get started!
What will you learn with us?
Are you an absolute beginner who has never uttered a word of Japanese? Then, you'll start with our Survival course, a programme where you'll get familiar with the Japanese alphabet (Hiragana or Katakana) and start acquiring some basic vocabulary and skills to hold conversations in a short time. For example, you'll learn some greetings (ohayoo gozaimasu, konnichiwa) requests (Motto yukkuri hanashite kudasai - "can you speak more slowly?") and ways to thank others (Arigato). Your lessons will be focused on communication, so you'll be exposed to Japanese from the beginning.
How will your lessons be structured?
Plus, your instructors will plan the course around the real-life resources best suited to your interests and goals. Enjoy and learn from Anime series (One Piece, Naruto or Sakura are great options!), online presentations, movies, J-pop songs or manga. Just communicate your preferences to your tutor, so they can plan your perfect syllabus!
Why take online Japanese lessons?
Stay at home and take your online lessons in a safe, convenient way.
As our tutors don't have to travel to teach a Japanese class, they can be more flexible in case you need to reschedule. Just get in touch with one business day's notice.
Taking online language courses does not mean you have to study alone. Listen & Learn offers you the chance to study with up to 8 friends or co-workers in small, closed-group sessions.
You only need Skype and a stable internet connection to get started!
These are completely free and will take no more than 15 minutes


Japanese
Level Test
Find out your level!
---
Top Tips For…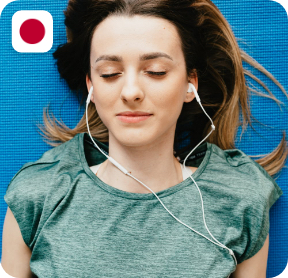 Rock and metal fans will be happy to know they have plenty of options when it comes to enhancing their comprehension skills and vocabulary by listening to Japanese songs, such as Forever Love. This song, famous in Japan and covered by numerous artists, is a love ballad that speaks about the undying love of a man for his wife. The chorus is quite repetitive, so even beginners can make the most out of this track and pick up Japanese words and phrases. Keep the lyrics at hand and give karaoke a try for even more fun!
Listen to Forever Love here!
Handyman, by Perfume, is a catchy Japanese love song that talks about uncertainty and insecurity in a relationship. The poetic persona, then, sings about the need for a handyman who can fix their problems. The track is quite long (it lasts almost 6 minutes!) but the chorus repeats frequently, making it easy to memorise and sing. By listening to this song, you'll also fix some terms and expressions into your long-term memory, such as nanto kashite (tell me what to do) or nandaka umaku ikanai no wa (I just don't know how to say this).
Listen to Handyman by clicking here!
Are you an intermediate or advanced student of Japanese and up for a challenge? UR Love by Micho is the song you need. It mixes rap and hip hop, so the pace is fast and the lyrics are complicated, but by singing along to your favourite Japanese song, your tongue and mouth get used to forming sounds in the foreign language, helping you to become fluent and sound more natural in conversation. Furthermore, you'll not only improve your pronunciation and intonation to sound more natural but also acquire new vocabulary that you might not find in a text book!
Click here to listen to this hit!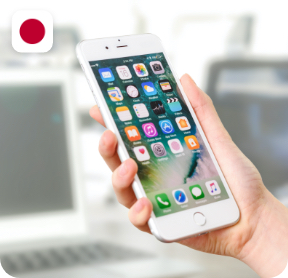 Interacting with others in Japanese is crucial to develop your writing and speaking skills. If you find it hard to find Japanese speakers in your area, you can always use apps like Lext Talk. Just create a profile, select your target language and get started! One of the best features of this app is its interactive map, which you can browse to look for new friends in a specific area or region. This makes it easier for you to find partners who speak a certain dialect (for example, you can connect with people living in the Kiki region, who speak the Kansai variety).
Yomiwa is a Japanese dictionary and translator very useful for learners and travellers. In addition to translating from Japanese kanji to English, it is also possible to do so to German and French. You can even take a picture of the kanji word or sentence you want to translate and the app will do it for you! It can read horizontal and vertical text and, little by little, the app is being updated with hiragana, katakana and romaji words and capabilities. Plus, the app includes grammar and vocabulary exercises for beginner students, so you can start acquiring knowledge of the alphabet, pronouns, subject-verb agreement and more.
Kana Quiz is a nice option for students who love learning languages through games. Select a word in romaji and then pair it up with its kana counterpart or vice-versa. While the game is simple, it's very effective at helping learners to remember the different Japanese writing systems. Additionally, you can create your own flashcards using images from their database on one side and a recording of you pronouncing the word on the reverse. This way, you'll have a visual reminder of the term and you'll also remember how to pronounce it!
ENGAGING. CONVENIENT. PERSONALISED
Sign up for our face-to-face language courses in your city. You'll be fluent in no time!
Send us a quick enquiry