ONLINE KOREAN LESSONS
Are you interested in K-pop and would like to understand the lyrics? Would you like to be able to watch Korean movies without subtitles? Maybe you want to take up higher education at a reputable Korean university. Whatever your language goes, we can help! Reach out to us at Listen & Learn and we will prepare a personalised programme, so you start learning Korean at your own pace.
What will you learn with us?
Korean is a difficult language to learn for English speakers, not least of all because of the new alphabet you'll have to learn, together with a different grammatical and syntactic system. But don't let that stop you from learning the language you've always wanted!
Our tutors are professionals with years of experience guiding people of different ages and levels of proficiency to fluency. We believe that communication and culture are paramount when learning a language, so our lessons always make use of real-life materials, such as songs, movies, books and TV series, so you always feel motivated to take your online Korean lessons.
Who can study Korean with us?
Don't worry if you've never studied Korean in the past. If you're an absolute beginner, we'll help you get started with a Survival course, where you'll become familiarised with the Korean writing system and sufficient basic grammar and vocabulary to hold a conversation in a short time. At higher levels, you will continue your language journey with a tailor-made programme designed just for you.
Some more reasons to learn Korean
Further, the language has historical connections with Mandarin, so you'll find it easier to acquire if you already know some Chinese. So, once you're fluent in Korean, you can use it as a springboard to acquire other Asian languages, like Japanese or Hokkien (one of the main languages of Taiwan).
Why take an online Korean course?
Flexibility and convenience. As nobody has to commute to attend an online course, our teachers can be flexible when rescheduling lessons. You only need to give them one business day's notice to reschedule classes.
You'll never get bored. The internet offers endless resources to learn languages, such as songs and interactive games, so you're always motivated to learn the language.
You don't need advanced software or expensive equipment. You can take our online lessons with a stable internet connection and a mobile device or computer!
Take individual or small-group sessions with up to 8 co-workers or friends.
These are completely free and will take no more than 15 minutes


Korean
Level Test
Find out your level!
---
Top Tips For…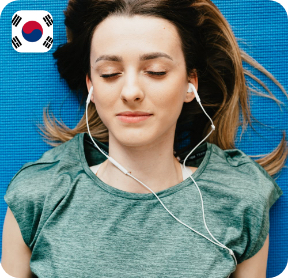 Listen to popular Korean songs to learn useful vocabulary, develop your pronunciation and about the culture and beliefs of native speakers! For example, Arirang is a piece that talks about a woman whose lover stops caring about her. She ultimately loses the love of her life and travels throughout Korea to find him. So, you will get familiar with words that express love, sorrow and heartbreak, as well as with geographic locations in the country and words related to landscapes, such as hills (eondeog), clear sky (malg-eun haneul) or long rivers (gin gang).
Listen to this piece here!
Are you a BTS fan looking to improve their Korean skills? Then, catchy, upbeat songs, like Spring Day, can be your best allies. This specific piece talks about two lovers who hate the passing of time because they are not together, and it is great for beginners because it does not include any complicated structures or vocabulary. In fact, the song is entirely in the present-simple tense and uses everyday terms related to feelings, such as hate, love, heart or kiss. Plus, it has a fairly slow pace and a lot of repetition, so you can sing along to the song and practise your pronunciation!
Listen to this piece here!
If K-pop is one of your passions, why not combine it with your Korean studies to improve your skills in a meaningful way? For example, you can listen to Lonely, one of the most well-known hits by 2NE1, a girl K-pop band. The song is about a girl who decides to get over a heartbreak and move on. Instead of feeling lonely and sad about this situation, she realises she needs to get together with her friends and do things that make her happy. The song is great for advanced students because it features a lot of idioms and colloquial phrases.
Listen to this piece here!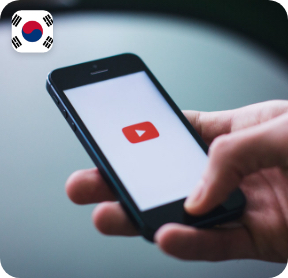 Minji Kim is a Korean native speaker with a YouTube channel where she helps native English speakers to learn her Asian language. For example, she produces content like "how to conjugate Korean verbs in the past" or "how to order food at a restaurant". She posts videos 3 times a week, so you will always find new content to improve your Korean skills. The videos are not subtitled, but if you are a beginner, you can always switch on YouTube's auto-generated captions. So, learners with any level of proficiency can take advantage of this great resource and learn more Korean!
Click here to subscribe!
Conversational Korean is an original YouTube channel that features two cartoons speaking to each other in Korean. They are voiced by the same talented person with the aim of helping Korean students pick up some new words and phrases to converse in this language. The best part is that the videos have both Korean and English subtitles, so students of any level of proficiency can take advantage of this resource. Most of the videos are conversations between two friends in different places (at the mall, at the restaurant, etc) while some others feature situations at the workplace.
Click here to subscribe!
Seemile is a great YouTube channel for those looking to improve their Korean skills while having some fun! Furthermore, you can complement what you learn in these videos with an app that works for Android and iOS. The channel has a special section for English native speakers divided into levels. For example, a playlist for beginners that starts with the Korean alphabet (the Hangul) and then moves on to discuss basic grammar rules and vocabulary. Meanwhile, the playlist for advanced students includes information about pronunciation and intonation and some useful tips to pass the TOPIK (Test of Proficiency in Korean).
Click here to subscribe!
ENGAGING. CONVENIENT. PERSONALISED.
Sign up for our face-to-face language courses in your city. You'll be fluent in no time!
Send us a quick enquiry