ONLINE POLISH LESSONS
Whether you are planning to move to Poland, pursue higher education at a Polish university or communicate with new clients who only speak the language, our online Polish courses will help you achieve your goals in no time. Contact us at Listen & Learn today and get started with a personalised programme, designed just for you!
Sign up for an online Polish course and you'll become proficient in a short time. You need not worry if you have never taken language lessons before: we offer a special Survival programme for beginners. As its name indicates, you'll learn the vocabulary, grammar and skills that are essential to begin having basic conversations in Polish.
What you will learn with us
For example, you'll become familiar with greetings (Witaj, cześć), requests (Proszę, Ile to kosztuje), and ways of saying thank you (Dziękuję). And you'll learn unique aspects of Polish pronunciation and structure, like how the words are highly inflected and sentences have no specific word order. In fact, some aspects of the language are very easy, such as how there are no articles at all! The more advanced your level, the more each lesson will be tailored to your needs as you move away from basic grammar and pronunciation and start tackling specific subjects of interest to you.
More reasons to learn Polish
As a further incentive, Polish is a Slavic language, meaning it shares many features with other languages of the same linguistic branch, such as Czech, Slovak and Turkish. For instance, all of these languages have three grammatical genders and have gender and number agreement. So, once you're proficient in Polish, you'll find it easier to acquire another Slavic language in a short time. Contact us and start your online Polish course today!
Why take online Polish lessons?
Decide if you prefer to take individual or private, small-group sessions with up to 8 friends or co-workers.
You don't need to know a lot about technology or have advanced equipment to get started. Just download Skype to your computer or smartphone, make sure you have a stable internet connection, and you're ready to go!
Enjoy greater flexibility than with face-to-face lessons. Your tutors don't have to commute to teach the class, so you can let them know if you need to reschedule a class with just one business day's notice.
These are completely free and will take no more than 15 minutes


Polish
Level Test
Find out your level!
---
Top Tips For…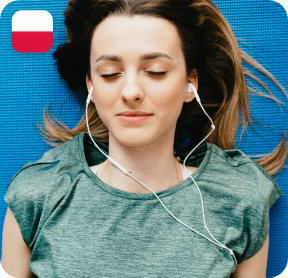 W kinie, w Lublinie is a great folk and pop song for language learners, which will help you to become familiar with everyday vocabulary in Polish while enjoying great music! For example, you can practise the locative case (used in Polish to describe where something is located), as the song talks about all the places in the city the singer visited with his ex-lover and how much he misses her when he goes back to the cinema (kino) or the park (rezerwat). Due to its fast rhythm, the song is more suitable for intermediate or advanced students of the language.
Click here and musicalise your day!
Learning a language well requires learning the culture of the people who speak it, and popular songs are a big part of that! For example, W piwnicznej izbie is a popular drinking song you will likely hear if you attend a traditional Polish wedding or adult birthday party. The lyrics talk about a man who wants to drink all day long. So, you'll get familiar with basic vocabulary, as he mentions all the things he rejects, like horses (konie), money (pieniądze) and women (kobiety), because he's only interested in beer. It's very well suited to beginners as it's both catchy and repetitive.
Enjoy this song here!
Looking for a beautiful romantic song that allows you to put your Polish skills into play? Then, you shouldn't miss Bierz co chcesz by Shazza. The piece follows the story of a man who has just broken up with the love of his life and how he wants to forget everything. The song is not very linguistically challenging, as it repeats the same verbs and expressions (such as Nie mów - Don't say) throughout the piece. The vocabulary is quite simple, as well, so it's very suitable for beginner and intermediate-level students of Polish.
Listen to this catchy tune here.
ENGAGING. CONVENIENT. PERSONALISED
Sign up for our face-to-face language courses in your city. You'll be fluent in no time!
Send us a quick enquiry