Does a Family Vacation to Dubai Sound Crazy?

[caption id="attachment_3576" align="aligncenter" width="596"]

(Dubai as seen from the USS Anzio - Image courtesy of
Wikimedia
Commons)[/caption]
Does a Family Vacation to Dubai Sound Crazy? – Think Again!
When Westerners think of the Middle East, they most likely do not think about taking their family on vacation there. But in reality, there are some jewels of the desert that, although predominantly Muslim, are friendly to Western tourists, tolerant of other religions, and are family-oriented with spectacular attractions that will astound even the most worldly traveled individuals. The incredibly amazing
City of Dubai
with its simultaneously modern but age old beauty, and incredibly historic heritage, makes it stand out as one of those places. Dubai is also an important major business hub as well. [caption id="attachment_3577" align="alignright" width="300"]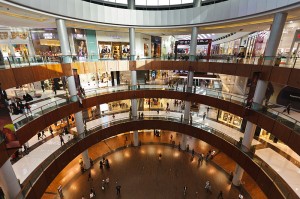 (Image via
Wikimedia
)[/caption]
The Dubai Mall
The
Dubai Mall
is the world's largest top shopping and entertainment destination. The entire mall provides a shoppers dream of 1,200 stores in which to choose from. Over 100 million visitors each year also visit the Dubai Mall for the culinary adventures of their 150 fine dining restaurants and numerous food court venues. All offering their guests extravagant and exotic tastes from around the globe. If Disneyland takes the average family all day just to see its basic sights, the Dubai Mall will provide family vacationers days of entertainment, culture, and of course a unique shopping experience that they will never forget. It is undisputedly one of the most incredible shopping wonders of the World, and an experience of a lifetime for the whole family. [caption id="attachment_3578" align="alignleft" width="300"]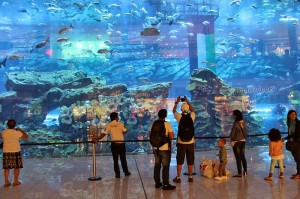 Image via
Wikimedia
[/caption]
Dubai Aquarium and Underwater Zoo
The
Dubai Aquarium
sports one of the largest aquarium tanks in the world at 167ft x 65ft x 36ft (50m x 20m x 11m).  The aquarium houses a gigantic collection of 33,000 animals that represent 85 different species, including 400 sharks and stingrays combined. One of its stunning features is its 270-degree see-through tunnel that gives its viewers a magnificent up-close experience, with a special lighting system that changes the massive tanks' ambience depending on the time of day. There is also an underwater zoo that recreates a rainforest atmosphere and other living ocean environments, including exciting river species such as piranhas and giant catfish. Birds and mammals are also included where people can observe penguins, otters, and other animals. Suspension bridges and rock pools perfectly complete the aquatic experience which is guaranteed to thoroughly satisfy old and young aquarium enthusiasts. [caption id="attachment_3579" align="alignright" width="300"]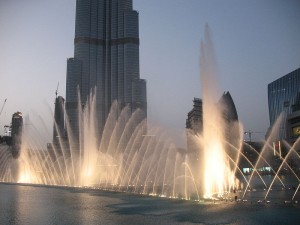 Image via
Wikimedia
[/caption]
The Dubai Fountains The Dubai Fountains are set on a 30-acre lake called Burj Khalifa. Its dazzling water jets shoot breathtakingly up to 500 feet into the air. The fountain itself is an incredible 900 feet (274 meters) long with five main circles and two separate arcs. Its famous designers are also known for creating the fountains at the Bellagio Hotel in Las Vegas. The fountain gives daily performances to countless visitors from around the globe, all set to world renowned music pieces. The brilliant lights can be seen at night from 20 miles away due to its cutting edge technology and 25 projectors that create a remarkable visual show with over 1,000 abstract designs that can actually be seen from space. This gem of Dubai is also an unforgettable sight for any age group, making it a family must-see. Remarkably, these are just a few of some of the many notable sights to see in the City of Dubai. Millions of tourists visit the elegant and friendly Middle Eastern city because of its welcoming nature. Dubai accommodates people of all nationalities, races, and cultures with open arms. The city is remarkably family-oriented, highlighting age-old universal values of civilized tradition, making it one of the safest places to visit for westerners in the Middle East.
Dubai, in the United Arab Emirates, might not be one of the first choices one thinks of when contemplating a family vacation spot, but it is guaranteed to be one of the cleanest and most glamorously memorable destinations one could ever think of, so if a family vacation there sounds like a crazy idea – Think again. Whether traveling to the city on business or for pleasure, knowing the language is a respectful way of personally interacting with the local population. Listen & Learn
Language Lessons
are an easy and fun way of learning Arabic before traveling to Dubai, either as a second language, or a third and fourth.
Contact us
 and find out more about our language professionals today.