The Gringo's Guide to Brazil's Carnival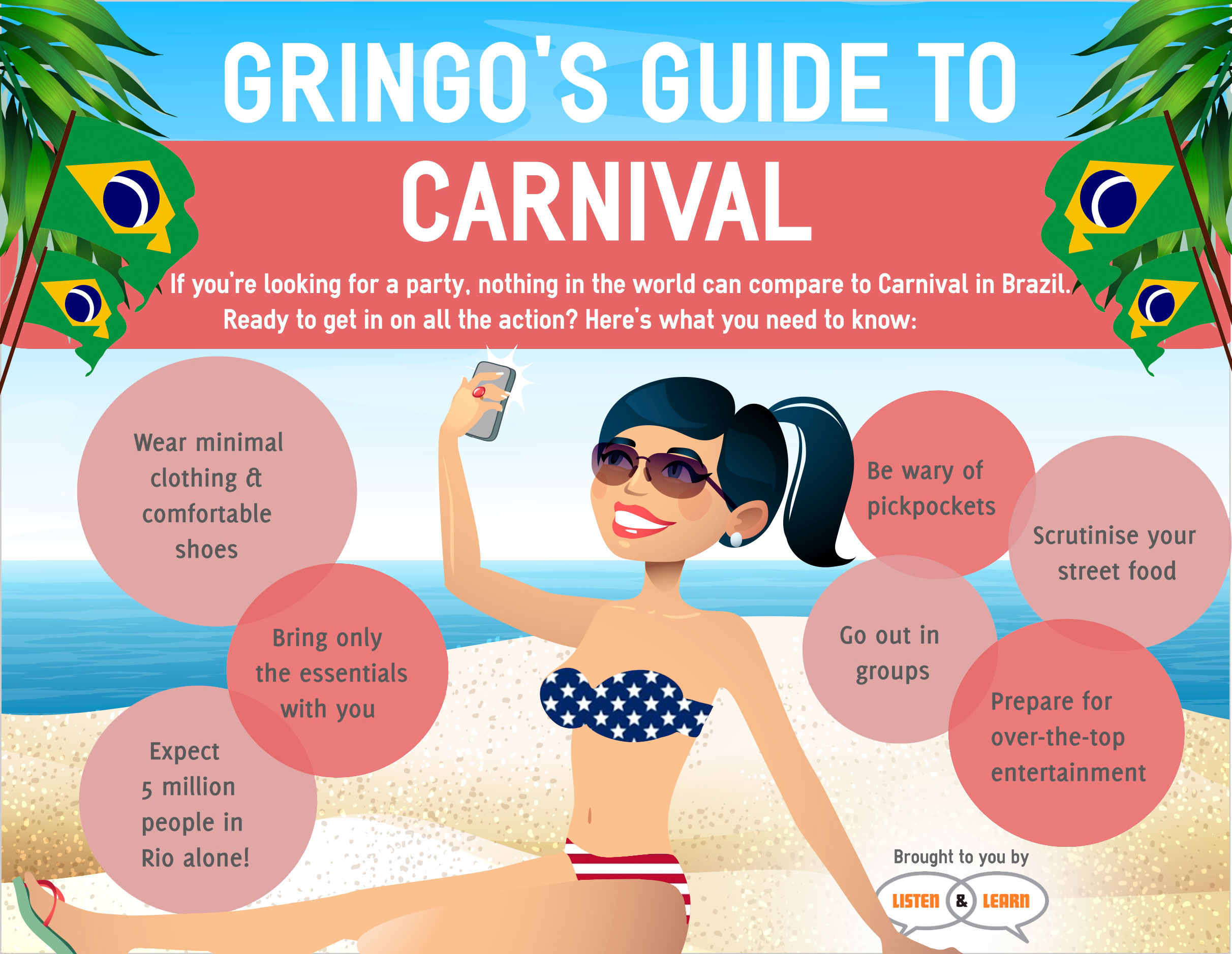 If you're looking for a party, nothing in the world can compare to Carnival in Brazil. While the rest of Latin America celebrates Carnival, too, no other country takes its duty to party in the days before Lent as seriously as Brazil does. The music, the dancing, the gatherings in the streets, the food, the bright lights…everything that makes Brazil's Carnival the planet's biggest street party is a practically non-stop affair for five glorious days each year.
Whether you're planning on joining in on the fun at a neighborhood bloco in one of Brazil's smaller cities or are gearing up to watch the massive samba school competition at Sambadrome in Rio de Janeiro, you're in for a real treat. Because with all that pomp and show comes a sense of national pride, an exuberant energy, enthusiasm for life, and an atmosphere of fun that everyone should get to experience at least once in their life. If you're ready to get in on all the action, here's what you should know:
THE HISTORY
To Catholics around the world, Lent is a period of abstinence and religious mindfulness. Carnival is a celebration over the 5 days leading up to Ash Wednesday in which they get to prepare for those 40 days and nights… by essentially letting loose and having a blast! These days, millions of non-Catholics (and those who skip traditional Lent practices) join in the festivities.
WHAT TO WEAR
Summertime Casual
This year, Carnival will be celebrated from February 13-February 18, which is right at the peak of the South American summer. That means it will be hot, so you'll want to keep your clothing minimal and lightweight to combat the heat. Be sure to wear comfortable shoes since you'll be on your feet for most, if not all, of the day and night.
WHAT TO BRING
The Essentials
The trick is to take only the basics when hitting the streets for a Carnival celebration. The sun will likely be shining, so slather up with sunblock and take along a travel sized bottle for reapplication later in the day. Don't forget sunglasses and a hat so you can keep the sun out of your eyes and can enjoy the floats and performers in all their glory. Take only the cash you'll need and divide it up–stick some in a zippered pocket, a bra, a sock, etc. And last, but certainly not least, don't forget to take water and keep buying more to drink throughout the festivities. Staying hydrated is critical to having a great time at Carnival!
WHAT TO EXPECT
A LOT of Everything
A lot of people, a lot of energy, a lot of noise. Get ready for it all. Some 5 million people attend the Rio Carnival celebrations alone, with millions of others flocking to major cities like Salvador, Belém, and Recife. One thing's for sure: you will not be lonely–or alone–during Carnival!
A Few Unsavory Characters
There will inevitably be some pickpockets among the millions of festival goers, so be smart about how you carry valuables. As any well-traveled adventurer knows, it's best not to wander around with too many pricy or showy items. It'd probably be wise to skip taking along that fancy smartphone or camera and opt for a simple digital camera instead. Do not carry your passport with you, but rather take a color copy of the photo page and the entry stamp showing your legal arrival to Brazil.
An Abundance of Entertainment
Carnival celebrations are known for their over-the-top entertainment, including stilt walkers, samba dancers, live bands, larger-than-life floats, drummers, and thousands of other performers covered in feathers, glitter, and gold. Get ready to be wowed!
WHAT TO AVOID
Questionable Food
Street food can be a blessing. A hearty, local meal served up in a portable package, and at an affordable price…what's not to love? Just be sure to go with your gut on questionable stands. In other words, if it doesn't look like something you should be eating, don't.
Going Solo
Stay with a group for your own personal safety, especially when out late at night. Always be aware of your surroundings, take registered taxis, and avoid unlit areas when walking.
***
To learn more about Rio's Carnival, check out this helpful website. And here's a fun youTube video to get a taste of the famous samba school competition at Rio's Sambadrome. When you're ready to get serious about having a blast at Carnival, you're going to need to get your Portuguese in good shape! Contact us to learn more about language classes near you, including one-on-one training, small group classes, and online instruction. Happy Travels!