Irish: A Whistestop Tour
A long time ago in a galaxy far, far away – also known as early last year, we pondered the use of the Irish language in Ireland today. It is such a lovely language that we think it deserves another look.
Currently, at least according to the latest Census, around 41% of the population of Ireland can speak Irish. It is just a question of whether they choose to or not.
We think Irish sounds beautiful and is a very relevant language, and in order to convince you likewise we'd like to take you on a little walk through the language, looking at its history and how it is perceived in society today.
The Ogham stones...
...are our evidence of where it all began. The earliest known form of Irish is found in Archaic Irish, dating back to somewhere between the 3rd and 6th century following the arrival of Celtic language speakers on Ireland's shores. Inscriptions etched into the Ogham Stones are thought to be the earliest examples of Irish writing, with Archaic or Old Irish being the first language to use the Roman alphabet – making Irish the oldest written vernacular language north of the Alps.
During the Middle Irish period of 900-1200 AD, Irish received some loanwords from Scandinavia to add to the richness of the language, and between 1200 and 1600, the time of the 'Classical Modern Irish, a standardised language was developed in lay schools for poets and scholars. English, however, remained necessary for legal matters and administration, and somewhere along the way the Irish speaking community never regained political independence, meaning that the status of Irish as a major language was lost.
Irish continued to be used however, by those living in rural areas of Ireland right up to the 18th century. At this time, scholars became interested, or found renewed interest in the language, and so the revival began. By around 1876, the Society for the Preservation of the Irish Language had succeeded in gaining recognition for Irish at entry level of the education system. Towards the end of the century efforts were made to bring the written language in line with the spoken one.
And here we are today, witnessing a fledgling resurgence in both interest and speaking of the language, and at the very least, an increased affection for Irish.
Want to hear it for yourself? Here's an enthusiastic 'how to' guide from Youtube.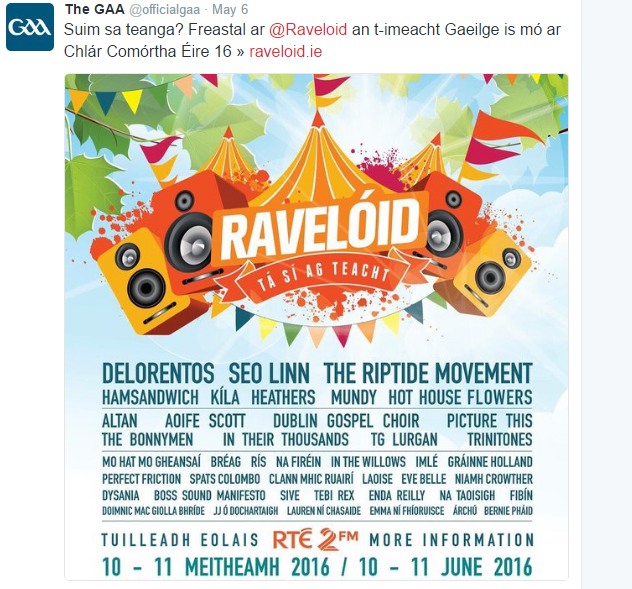 A quick grammar lesson...
At a glance, Irish grammar looks fairly straightforward and far less complicated than English, for example. For tenses we have: present, past, habitual past and future. There is a very short list of irregular verbs, both an autonomous and conditional form, and some lovely similes. We particularly like chomh balbh le trumpa gan teanga – 'as dumb as a trumpet without a tongue' (very dumb indeed). If you want to take a look at some grammar yourself, try here, but in short, Irish grammar has far fewer exceptions and hidden surprises than some foreign language choices out there.
To obtain the Leaving Certificate, which is the final examination at the end of secondary education in Ireland, up until recently it was compulsory to take Irish as one of the six subjects necessary to pass. Perhaps Irish secondary school students bemoaning having to learn the language have the same complaints as many students of languages in school do: too much focus on learning grammar almost parrot-fashion, and not enough emphasis on learning how to speak it. Language teachers: take note!
Learning a new language? Check out ourfree placement testto see how your level measures up!
Tír gan teanga, tír gan anam...
Or, a country without a language is a country without a soul. With the Gaeltacht – Irish speaking regions - at constant threat of decline – the preservation of the Irish language is seen by some as something that requires status similar to that of ecological preservation. And a recent protest outside BBC Belfast's offices following a spokesperson being refused the right to ask questions about the Irish language in a recent election debate, shows that passion for the language is there.
There is a general fear among Irish speakers that without the right amount of interest and investment of effort, time and money, that within a decade, the Irish language will be lost altogether.
But with the person appointed as minister for the Irish language, unable to speak Irish himself when he first came into office, is it fair to say that those determined to protect this beautiful language are coming up against difficulties and disinterest from the Irish Government?
Overseas help
Maybe preservation of the Irish language needs to come from somewhere outside of the Emerald Isle.
Back in 2014 when Barack Obama visited Ireland and cheered is féidir linn – 'yes we can' – many an Irish language fan preened with pride and felt affection for the US president for his efforts.
In Washington, unsung Irish language hero Ronan Connolly teaches Irish immersion courses, and according to the Washington Post, the number of American students enrolling in Irish language classes has doubled in recent years.
Even in Canada, there is a program to 'support the development and growth of the Irish language' by honing Irish language instructor skills to make them more effective teachers.
So perhaps what Irish really needs is some ambassadors. Our choices are Brendan Gleeson and Michael Fassbender, but honestly, we are spoilt for choice.
Power of the internet
The internet is not always the big evil that is marginalising language use and forcing less-spoken tongues into a virtual black hole. To some, the internet will actually be the saviour of the Irish language. According toDr Teresa Lynn, the internet is a great place to take part in the resurgence of Irish, with social media platforms such as Twitter encouraging use of the native language.
During Seachtain na Gaeilge –Irish Language Week – individuals and companies alike give the Irish language a boost and put it very much in the public eye. One excellent example is Blacknight, an Irish company that uses Twitter to full effect and has posted an inciteful article on how the internet connects people across the world (read it here).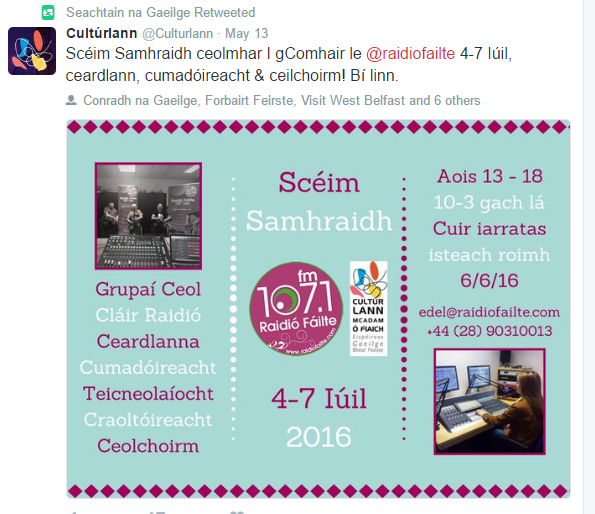 To summarise...
The Irish language is certainly not dead, but it definitely could do with a little encouragement and hand-holding if it is to continue to increase its usage and overall popularity. Irish speakers often look to the Welsh for guidance on how to revive a 'lost' language, and the future looks optimistic for Welsh overall. We are hoping for a similar sunny outlook for the beautiful Celtic tongue that is Irish.