The 5 Greatest Brazilian Footballers of All Time
The World Cup in Brazil is just around the corner, and the eyes of an expectant nation will be on the home team. As they bid to win a remarkable sixth World Cup – five is already a record – minds will be cast back to the classic Brazil teams of the past, and the exceptional players who have lined up for the Seleção Brasileira, 'the Brazilian selection' as the team is known.
Here are the five greatest players ever to have played in Brazil's famous yellow jersey – in my opinion at least: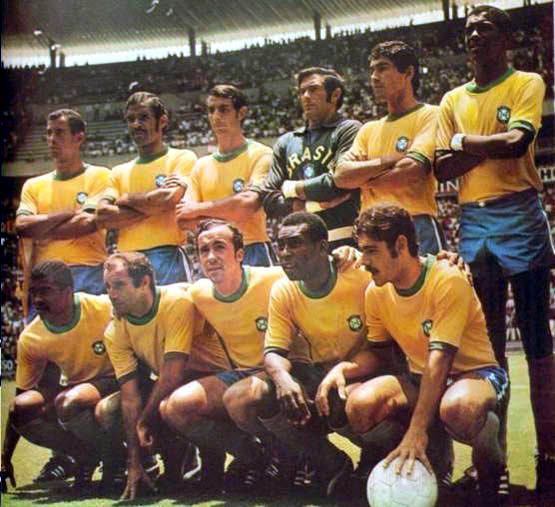 1. Edson Arantes do Nascimento, 'Pele'
Let's get the king out of the way first. Pele scored 77 goals in 92 appearances for his country, topping the goal chart for Brazil. He is regularly named the greatest player of all time in poll after poll, and not just in Brazil. He made his debut at 16 and helped Brazil to win three of the four World Cups in which he featured. Face it, he's the greatest.
Post-football, Pele had stints as Brazilian Minister for Sport and famed advocate of Viagra. Still scoring!
2. Arthur Antunes Coimbra, 'Zico'
Widely regarded as one of the finest passers of a football ever to have graced a pitch, Zico could be described as the greatest player never to have won the World Cup (though fans of George Best may dispute that). Zico was a member of three World Cup squads, including the extraordinary 1982 side, which stunned the world by not winning the tournament, bowing out to eventual winners Italy in only the Second Round.
He did, however, beat Pele to the Sports Minister job by a full six years.
3. Ronaldo Luís Nazário de Lima, 'Ronaldo'
English football grounds for years resounded to chants of "You're not the real Ronaldo!" whenever Cristiano of Manchester United would take the field, though he turned out all right. This is because the real Ronaldo scored some stunning goals for Brazil (62 in 98 appearances), and more than any other player at World Cups with 15. He also helped Brazil win the tournament in 1994 and 2002, at a time when their squad was not quite as star-studded as in the past.
His colourful off-field life included a bizarre incident with a transvestite prostitute, and one of football's most unforgivable haircuts during the 2002 tournament. But he's the real Ronaldo, so we'll forgive him.
4. Marcos Evangelista de Moraes, 'Cafu'
Arguably the unfashionable choice, Cafu makes the top five due to his solid defending over 142 Brazil matches, a national record. It was Cafu's tough tackling that allowed the likes of teammates Romario, Bebeto and Ronaldo to express themselves in attack.
Imagine how hard it must be for a Brazilian footballer to curb his natural flair and agree to play at centre back! A true hero of Brazilian football.
5. Manuel Francisco dos Santos, 'Garrincha'
The phrase 'tricky winger' is deployed too often, but there's little doubt it applied to the man they called Anjo de Pernas Tortas, or 'Angel with Bent Legs'. Footage of his amazing ball skills is truly bewildering to anyone who can't imagine knees working like that. Garrincha won the World Cups of 1958 and 1962 with Brazil, alongside Pele.
Tragically Garrincha's life after football was plagued by alcoholism and he died of liver failure at just 49.
Watching the World Cup in Brazil
Should you be lucky enough to be heading to Brazil for any of the matches – almost certainly featuring some of the men above as star commentators and pundits – you may want to go armed with a few Portuguese phrases to help understand what's going on. Considering it's Brazil, there's every chance you'll hear eles são perigosos no contra-ataque ('they are dangerous on the counter-attack'), or ele dribla a defesa ('he dribbles through the defence'). You'll almost certainly hear Goooooooool!, but I'm confident you'll be able to work that one out yourself.
To find out just how much Portuguese you're currently in command of, have a go at our Portuguese level test. And don't forget to learn the words of Brazil's most famous football song, Na Cadência do Samba!