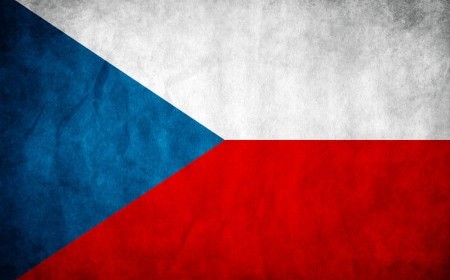 Fact: A chapel in the Czech Republic uses about 50 000 human skeletons as decoration
From the outside it looks like any other small town Roman Catholic chapel, the graves of the buried scattered around the gardens. Little can you tell from the outside that the bones of the dead have been strung up, pinned down, and stuck together to create a rather creepy interior decoration to the Sedlec Ossuary, or the Bone Church in Kutná Hora, Czech Republic.
Almost 200 000 tourists flock to this creepy creation every year, to have a look at what is estimated to be between 40 000 and 70 000 human skeletons. The chapel's story started in 1278, when an abbot was sent to the Holy Land, and returned with a small amount of earth that he sprinkled over the cemetery. Word of this act spread and soon the area became a popular place to be buried, where the amount of bodies lowered into the ground grew still with the Black Death a century later.
Around 1400 the church was erected, with a lower chapel to be used as an ossuary for all the skeletons that had been unearthed during the construction. A half-blind monk exhumed more skeletons a hundred years later and eventually in 1870, Rint, a woodcarver, was hired to put the piles of bones in order – producing the macabre result of which we are left with today.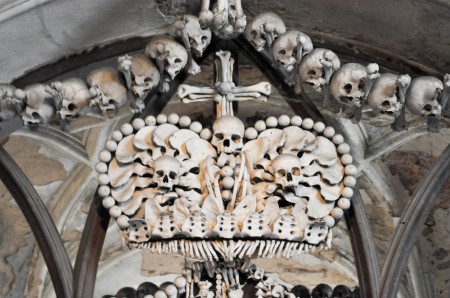 One of the greatest attractions inside the ossuary is the chandelier – a humungous structure that consists of at least one of every bone in the human body and hangs from the middle of the nave, wreaths of skulls adorning the vault. The chandelier is not the only artifact hanging from the ceiling, and this morbid collection is joined by a skull candelabra, a display case of damaged skeletons, chalices, a family coat of arms (honoring the Schwarzenburg family who owned it in 1870) and lastly, Rint's signature – his final mark on the place created entirely, of course, of bones.
The rationale for this unique construction is inscribed inside the chapel – "This work reminds us of the fact and the worth of eternity" and in the vicinity of pyramids of bones we are told that the "human bones represent multitudes which none can count facing God's throne." Whatever the reasoning, the chapel represents hundreds of years of history in the country, in a manner slightly more exciting than your average museum.
Do you think the chapel is a work of art? Or just horribly macabre? Tell us your thoughts and have a look at a few more Czech Republic facts in our True or False game!