When one thinks of Japan, the first thought that comes to mind is sushi, but Japanese food is more than just sushi! Japanese cuisine is diverse, with fresh assortments of meats and seafood that is servedraw, fried, or grilled. Enjoying Japans delicious cuisine is an exotic food aficionado's dream come true.
Japan is a small country compared to many other countries around the world, but every region on the island has its own renowned heritage when it comes to food. Japan has an incredible amount of restaurants in comparison to its population. Most of Japan's numerous restaurants are specialty establishments that focus on only one style of food, or even only one dish.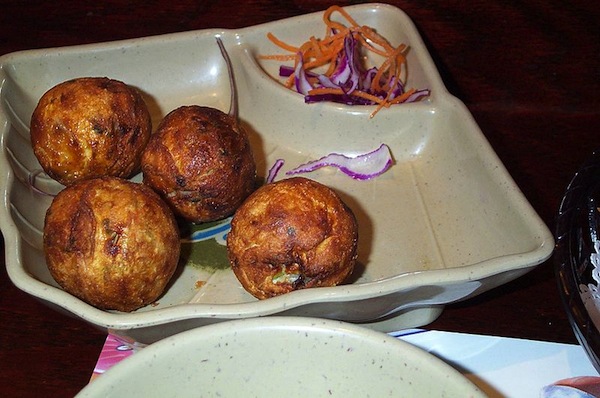 Takoyaki with red lettuce via Wikimedia Commons 
#1 - Takoyaki
This dish is affectionately referred to as "octopus balls" by its fans, they are griddle-cooked
bite-sized balls of wheat-flour batter filled full of fresh octopus or other popular fillings and brushed with takoyaki sauce. One can find this item all over Japan in restaurants or from street venders.
Takoyaki was initially popularized in Osaka by a street vendor named Tomekichi Endo in 1935. It was originally associated with street food stalls, but moved onward into takoyaki specialty restaurants, especially in the Kansai region of Japan. Now it is sold at commercial outlets such as supermarkets, and 24-hour Japanese convenience stores.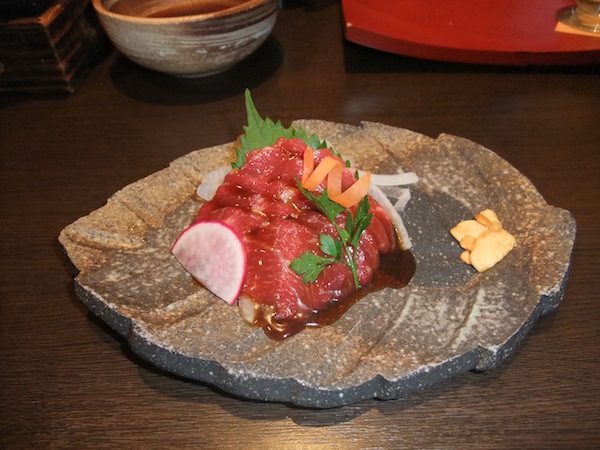 Basashi, raw horse meat via Wikimedia Commons
#2 - Basashi
Basashi is the name of thin slices of raw horse meat, otherwise known as horse sashimi steadily trending in Japanese society. The Japanese believe that raw horse meat is a highly nutritious food. Normally it is grown free range, of course, and is not usually subjected to the controversial growth hormone that comes with commercially raised beef.
The Yo-tu-ba association is a group of Japanese restaurants that all serve horse meat on their menus. They profess that the tradition of eating horses is centuries old and dates back to a Japanese lord named Kiyomosa Kato who had to eat his horse when his war rations ran dry during an epic battle.
#3 - Okonomiyaki
This popular Japanese street food is an interesting cross between a pizza and a pancake. Although the combination may not sound appetizing to some, Okonomiyaki is actually delicious. The dish is pan fried or grilled, and is made with batter, cabbage, and assorted toppings that include anything from meat, to seafood, or just a simple combination of wasabi and cheese. This Japanese comfort food is a must try item for any foodie touring japan.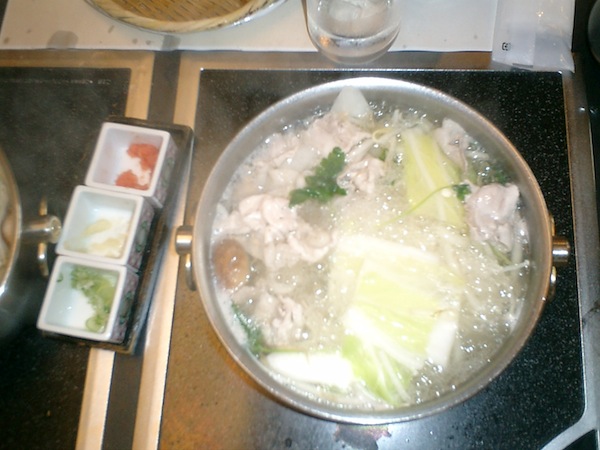 Shabu-shabu via Wikimedia Commons
#4 - Shabu-shabu
This Japanese dish is a variation of sukiyaki, which is a sweeter original version of Shau-shabu.
Whereas sukiyaki is comprised of thin slices of meat and vegetables that are slow cooked in shallow iron hot pots in a sweet broth of soy sauce, sugar, and mirin (rice wine), shabu-shabu is more of a savory type dish where the broth is instead made with edible kelp (kombu). Different ingredient varieties rather than the standard thin-sliced steak are: pork, crab, chicken, lamb, duck, or lobster.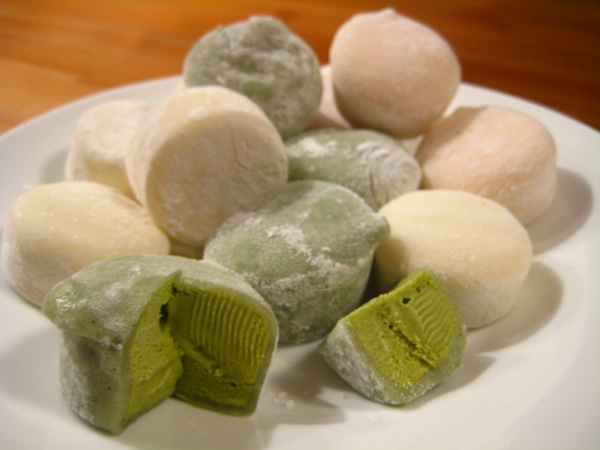 Mochi Ice Cream via Wikimedia Commons
#5 - Mochi Ice Cream
Mochi is a popular Japanese snack that is made of pounded rice paste. It is an immensely popular treat during the Japanese New Year.  Mochi-flavored ice cream is a Twentieth Century off branch of the crowd-pleasing desert mochi. The desert consists of round balls of ice cream, surrounded with pounded sticky rice cake (Mochi). Flavors that are Japanese favorites are: Green tea, red bean, or standard chocolate and vanilla.
Hungry yet? We are! Learn more about the food, culture, and language of Japan with a native-speaking, qualified Japanese tutor. Listen & Learn provides tailor-made classes designed to help you achieve your desired level of Japanese. Ready to get started? Check out our free, online Japanese level test then send us a quick enquiry to learn more about our Japanese lessons!