Korean food is one of many east Asian culinary gems, and there are plenty of favourites to choose from in this country's complex and alluring cuisine. Ever-evolving, Korean food is shaped by interacting cultures, social and political changes. Grains, meat and vegetables form the primary staples of Korean food, from which a fantastic variety of dishes spring. This is but a small selection from the great diversity that is Korean cuisine.
1. Kimchi
Kimchi has to take top spot on any list of great Korean food, and it's probably the best-known. The salted, fermented cabbage immersed in garlic, ginger, pepper and scallions is spicy and sour. A standard side dish at any meal, kimchi is an addition rather than a meal in itself. You can also find funky variations of this around the world, including kimchi sushi.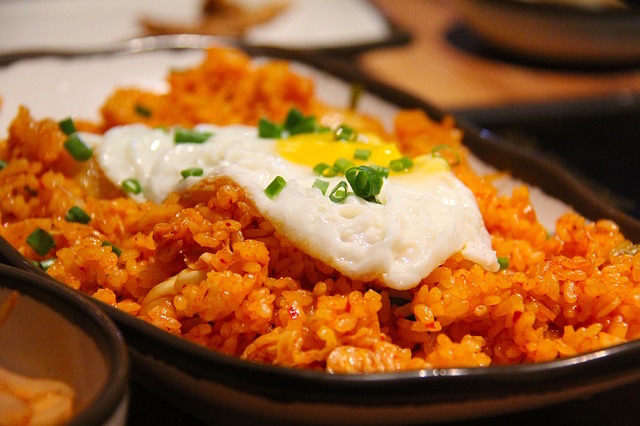 Kimchi fried rice via sharonang / Pixabay
2. Daeji Bulgogi
Great for carnivores, Daeji Bulgogi is barbecued meat, made with either chicken, pork or beef. The chosen meat is marinated in sweet soy sauce, sesame oil and garlic before being grilled. An easy one to try in your own kitchen, you'll find plenty of recipes available online. Remember to marinate for an hour or more before grilling.
3. Hangover Stew / Haejangguk
The name says it all with this dish, a rich broth made up of dried cabbage, meat, and vegetables. Some versions contain congealed ox blood and others blood sausage. If you can't stomach the idea of this one, go for the versions that have more familiar meat strips. Perfect for the day after a night of over-indulging, this hearty soup is both delicious and full of necessary nutrients. Vegetarians can have the alternative to Haejangguk, a potato based soup that is just as good.
4. Soft Tofu Stew / Soondubu Jjigae
A combination of tofu, meat, seafood, vegetables and a flavorful spicy seasoning, Soft Tofu Stew is unbeatable on a cold day. There are several variations, and this dish is another one you can easily try at home. Tofu, beef, shrimp, squid, clams, onion, green onion, zucchini, garlic, anchovies, pepper, egg, mushroom and chili are all basic ingredients to begin with. For kids, or anyone who doesn't like too much spice, you can eliminate the chili and use mild peppers instead.
5. Hotpot Mixed Rice / Dolsot Bibimbap
Much like fried rice, but closer to a kind of rice salad, Dolsot Bibimpap is mixed up with veggies, egg, toasted seaweed and sesame seeds. Another dish you can happily try at home (although it may have too many steps for the uninitiated), and great for summer. This is also adaptable for meat lovers and vegetarians, with grilled beef an optional extra.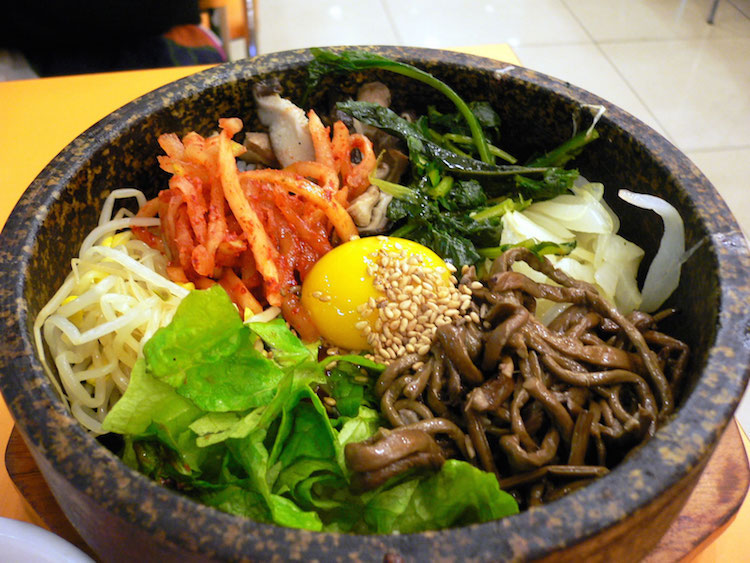 Hotpot mixed rice via Satomi Abe / Flickr
6. Steamed Mandu Dumplings / Jjindmandu
Usually filled with meat, garlic and tofu, and served with a dipping sauce (and kimchi sometimes), these Korean steamed dumplings are similar to pierogis - don't pass these up if you come across them. The satisfying parcels are also sometimes served in comforting soups called Manduguk.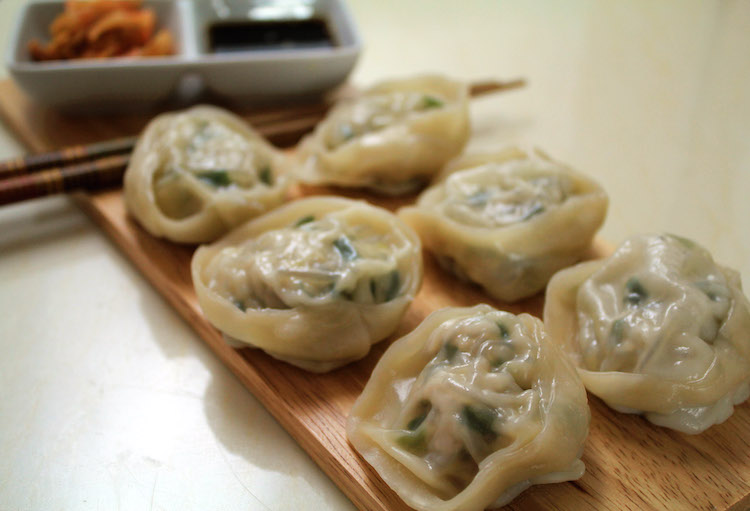 Mandu via Chloe Lim / Flickr
7. Mung Bean Pancakes / Bindaetteok
Made from ground mung beans, these are a very different style of pancake than Western ones and are more salty and textured. Kimchi is often mixed into the batter, and the pancake is deep fried. They sound strange, but nearly always get positive reviews. Plus they're a healthy snack option, with lots of fiber and protein.
Hungry yet? Fulfill your appetite for Korean flavor and knowledge with Listen & Learn's Korean course, taught by a native-speaking, qualified tutor. Ready to get started? Take a free online Korean level test and find out how good your current Korean skills are! Then, contact us to continue learning and discovering with Listen & Learn.