5 Great Books in Spanish for Intermediate Learners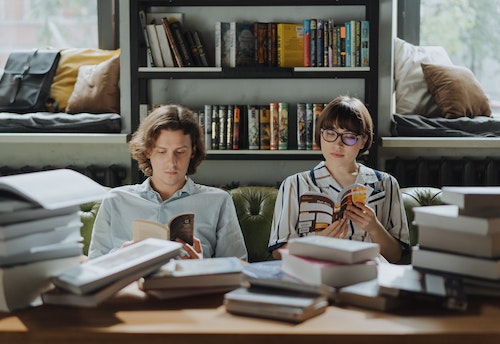 Most people think of language learning as a dry, academic exercise. But what if you could make the process more enjoyable and creative? That's where literature comes in. Reading books in Spanish – even if you don't understand every word – can help you learn the language in a fun and enriching way. Not only will you improve your reading comprehension and expand your vocabulary, but you'll also get
a taste of the cultures of Spanish-speaking countries
.
→Sign Up Now: Free Trial Spanish Lesson With a Native Teacher!←
Literary books in Spanish can be a great way to challenge yourself while still enjoying the story. Especially if you are an intermediate learner looking for a challenge. Here are five Spanish novels and short story collections that are perfect for your reading level:
1. Las cosas que perdimos en el fuego (Things We Lost In the Fire), by Mariana Enriquez, Argentina
Things We Lost In the Fire is a book by Argentinean author Mariana Enriquez. It is a collection of short stories that deal with dark, often unsettling themes. From a family dealing with a supernatural curse to a woman who becomes obsessed with a painting, the characters in these stories are complex and deeply human. While the subject matter may be heavy, Enriquez's writing is beautiful and poetic. Even when she's writing about a secret club of women who disfigure themselves with fire.
Who is this book for?
The characters and narrators in this book are contemporary people that you can imagine meeting in real life. As a result, the language is perfectly accessible for intermediate learners. Plus, the stories are short enough that you won't feel overwhelmed. All in all, this book is a great way to:
Expand your vocabulary.
Learn about Argentinean culture and history.
Enjoy the spooky, imaginative style of a writer that has given us some of the best story books in Spanish in recent times.
2. También esto pasará (This Too Shall Pass), by Milena Busquets, Spain
When she was a child mourning her father's early death, Blanca's mother told her a tale; a story about a powerful emperor who summoned the Wise Men and asked them for a single phrase that would work for all possible situations. After months of deliberation, the sages came before the emperor with four words. "This too shall pass." Then, the mother said: "Pain and sorrow are temporary, just like euphoria and happiness are temporary." Now it is Blanca's mother who has passed away. This book, which begins and ends in a graveyard, deals with the pain of loss and the weight of absence. But also, it reminds us that in the face of this pain, memories remain. Friendship remains. The need for adventure remains. Life goes on.
Who is this book for?
También esto pasará
is a book that will speak to anyone who has ever experienced grief. It will also move anyone that has embraced life when everything seemed lost. These are some of the things you can expect to find in this mesmerizing novel:
Universal themes.
A simple and straightforward narration conveyed in the first person.
Modern Castilian Spanish words and expressions.
3. Tengo miedo, torero (My Tender Matador), by Pedro Lemebel, Chile
Tengo miedo, torero
is the story of unrequited love between a transgender woman and Carlos, a young man from the Manuel Rodríguez Patriotic Front in Chile during the Pinochet dictatorship. The book's flamboyant narrator,
la loca de enfrente
("the queen next door") tells us about her obsessive love for the young revolutionary, and how he became involved in his political activities. Through a series of heart-wrenching, funny, and sometimes surreal episodes, we see how
la loca
's love for Carlos slowly destroys her. In the meantime, we learn about Chilean society during the years of dictatorship and the intense political climate of the time. But that's not it. By the second chapter, the scenes between
la loca
and Carlos intertwine with passages that show Pinochet and his wife's domestic life.
Who is this book for?
Pedro Lemebel, the author of this novel, is a gay Chilean writer and activist who had to flee from his country because of his criticism of the Pinochet regime. This novel, one of the most original books in Spanish in recent times, is admittedly not for everyone. In
Tengo miedo, torero
, you will find:
Heavy topics, such as homophobia, AIDS, political violence, and self-destruction.
The beauty of the Spanish language at its most colourful and inspiring.
A lyrical account of the last years of Pinochet's regime in Chile.
4. La sombra del viento (The Shadow of the Wind), by Carlos Ruiz Zafón, Spain
This is the first novel in Carlos Ruiz Zafón's Cemetery of Forgotten Books series. It tells the story of Daniel, a young boy living in Barcelona in the years following the Spanish Civil War. Daniel's father takes him to the Cemetery of Forgotten books, where he allows his child to choose one book to take home and protect. Daniel chooses The Shadow of the Wind, by Julián Carax, and soon becomes obsessed with the life and work of this mysterious author. As he begins to investigate Carax's past, Daniel finds himself caught up in a web of secrets, lies, and betrayal that will change his life forever.
Who is this book for?
La sombra del viento
is a beautiful novel with a complex plot that will keep you guessing until the very end. But it is also an excellent choice for intermediate Spanish learners. Ruiz Zafón's use of language is both poetic and accessible. Unsurprisingly, the book has been translated into more than 40 languages. What's more, it has become one of the best-selling books in Spanish of all time. In short, you can be sure you're in for a treat when you read this one. Buy
La sombra del viento
if you're looking for:
An accesible bestseller that is actually good.
An exciting story that will have you turning pages late at night.
A great book series (La sombra del viento is the first volume in a 4-book story!)
5. Pedro Páramo, by Juan Rulfo, Mexico
This classic of Mexican literature tells the story of Juan Preciado. Juan is a young man who goes to Comala, his father's hometown, in search of answers. Pedro Páramo, Juan's father, was a wealthy landowner who left Comala many years ago and never looked back. Now that he is dead, Juan wants to know more about the man who was never there for him. However, what Juan doesn't know is that Pedro Páramo that Comala is a town full of ghosts.
Who is this book for?
Pedro Páramo is a short novel, but don't let its length fool you. It is a complex and powerful story that will stay with you long after you finish reading it. Juan Rulfo's use of language is both beautiful and haunting, and his depiction of Mexican society is realistic and critical. This is one of the best books in Spanish for learners who are looking for a challenge. This is because Rulfo's writing can be a bit difficult to understand at times. However, those who persevere are up for a truly unforgettable reading experience. Plus, being a short novel, it won't take much of your time. Read Pedro Páramo if you're in the mood for:
A literary lesson on Mexican history.
A moving and haunting story.
A short but challenging read.
Read the best books in Spanish & learn languages
Whether you're looking for a light read or something a bit more challenging, there's sure to be lots of books in Spanish out there that are perfect for you. These five books are all excellent choices for intermediate Spanish learners, and each one offers insightful perspectives on the countries and cultures they depict. So why not give them a try? You might just find your new favourite book.
→Sign Up Now: Free Trial Spanish Lesson With a Native Teacher!←
Once you finish these five books, it will be time to capitalise on all the vocabulary you've incorporated through reading books in Spanish and start working on your conversational skills?
Send us a quick message
and we'll pair you up with a native teacher for a tailored course based on your needs and interests!