The Dangers of Online Translations
The first time I ever tried an online translator I thought I was finally living in the space age world I had always dreamed of. Surely, it would only be a matter of time before I got to sit in a flying taxi on my way to work in a robot factory on the moon.
Sadly, it wasn't to be. Not only do taxis remain firmly grounded, but online translators aren't the magical devices I thought they were. If you want proof that translations need to be dealt with by someone who understands both languages well, here are a few examples.
→Sign Up Now: Free Trial English Lesson With a Native Speaker Teacher!←
The Weird Chinese Menu Translation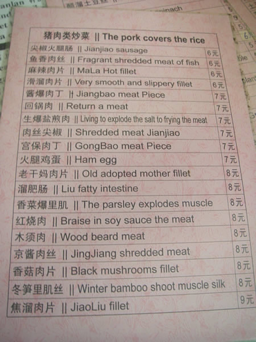 I have no idea if they used an online translator to create the most bizarre menu of Chinese food ever, but I don't think it was written by someone who was particularly fluent in English. Return a meat is a pretty tempting dish, although it does sound rather like something that is going to induce vomiting. However, my favourite from the menu has got to be the Living to explode the salt to frying the meat.  The only problem is that I don't think that any dish can possibly live up to such an invigorating name.
The Smiling Grass Translation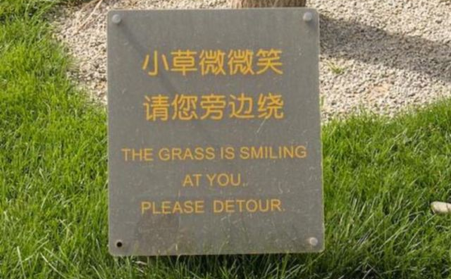 I love grass, I really do. However, even a dedicated grass fan like myself finds it hard to picture the green stuff grinning at me as I tramp all over it.
Nonetheless, this is what a Chinese park sign has been translated to say. The grass is smiling at you, please detour is the full phrase. Actually, that's a pretty good phrase and is probably more effective than a dry, serious 'keep off the grass' would be.  Make sure you smile back the next time you walk on a lawn.
The Golden Translation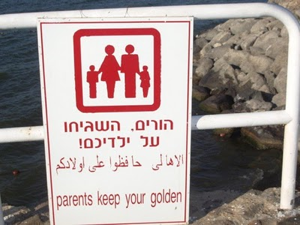 I love the translation on this sign that says Parents keep your golden. What can it possibly mean? There is a picture of a family above it so I reckon it is definitely something to do with the kids. It sounds like the start of an inspirational phrase like Parents keep your golden kids happy and healthy or Parents keep your golden years forever. Why on Earth would you put something like that on a sign next to the water, though?
The Lazy Translation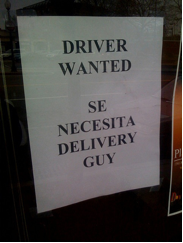 If you aren't an expert then, sometimes, you might get so far in a translation and just sort of give up. This translation of Driver wanted into Spanish started off well. Se necesita is a steady start but either the translator's PC broke down or else they just couldn't be bothered doing any more. It ended up as Se necesita delivery guy in Spanish so there really wasn't much point in pretending to translate the blooming thing in the first place.
If communicating in foreign languages is part of your job or daily life, you'll want to avoid issues like the ones above. Imagine how mistakes like this would look when sending a company email or meeting your in-laws! Of course, the best way to improve your English so it sounds natural is by practising with a qualified native speaker. If you'd like us to match you with an instructor who can help you take your English to the next level, contact us now! You will even get the first class for free, no strings attached!
→Sign Up Now: Free Trial English Lesson With a Native Speaker Teacher!←
Editor's note: Originally published on October 24, 2013. Updated on October 4, 2021.