Esperanto in its Natural Habitat: Part 3
Esperanto might offer the hope of being a truly global language, but is there actually enough interest for the language to grow? Are there really enough resources out there for learners to use, and communicate in, to give Esperanto a chance?
Let's take a look!
Websites
Two essential websites for Esperanto speakers are Esperanto USA, which gives resources for learning the language, meeting with fellow speakers, and all kinds of literature sources, and Esperanto.net which gives information about Esperanto in multiple languages.
Esperanto has its own Wikipedia page, and if you choose to it is also possible to use Google in Esperanto - as well as, perhaps obviously, use Google Translate. Tejo is an aesthetically pleasing and beautiful website in Esperanto which focuses on encouraging young Esperanto speakers to connect, and also offers versions of some of its content in other languages in case you need to refer back to your original language whilst you are learning.
How about watching TV in Esperanto? Well, there are a couple of choices, actually. Esperanto TV is where you want to head, and here you will find listings, links to channels like ETV and ZamTV, and also radio stations purely in Esperanto.
Finally, the forum over at Lernu is a great place for learner to share and discuss ideas, as well as practice.
So far, it would seem, that our hunt for resources in Esperanto is going well!
The big and small screen
We mentioned TV in Esperanto, but how about films and TV shows?
To date there are only four features films shot entirely in Esperanto. These are: Angoroj and Incubus, both filmed in the 1960s, and the more 'recent' Gerda malaperis and La patro. Incubus has a bit of a cult following because it stars the glorious William Shatner, who plays an injured soldier named Marc who has to navigate his way through a strange seaside community called Nomen Tuum.
There have been sporadic uses of Esperanto in various TV shows and a few documentaries, but that is where the trail seems to end. It is beginning to look like there are not a great amount of Esperanto viewing resources out there at all…
Learning a new language? Check out our free placement test to see how your level measures up!
Saved by literature?
Before we start to panic that there simply isn't enough for Esperanto users to practice their language in or simply enjoy the language with, let us see what is on offer in terms of finding something to read.
There are around 25,000 book titles published in Esperanto, with the Universal Esperanto Association offering the most material. Henri Vallienne is thought to be one of the first authors to publish an Esperanto novel, and Harold Brown has written a number of modern plays in the language.
Both Project Gutenberg and Many Books offer a number of titles in Esperanto, and Good Reads offers a number of suggestions for best Esperanto reads along with a few reviews for these books - although it has to be said that the number of reviews compared with other language titles is relatively few.
Let's hear it for social media…
.... Especially if you are a fan of keeping Esperanto alive!
Facebook already offers its users the opportunity to use the platform in Esperanto, and Twitter is currently working with translators to do the same. Twitter also has hundreds of accounts that are great to follow if you are looking for additional links for things to help you practice. And where else would we have discovered this beautiful cover of Adele's Hello in Esperanto?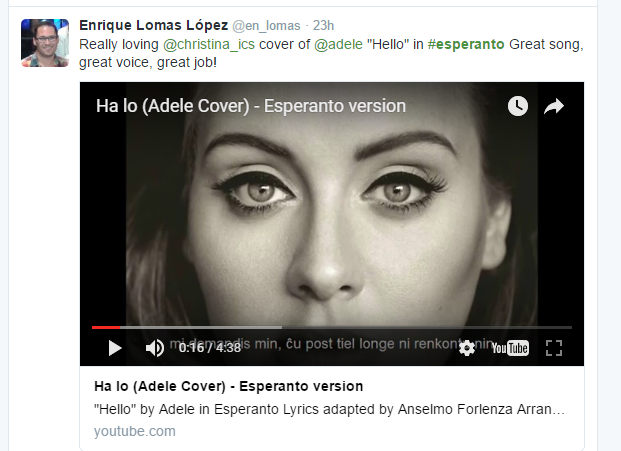 Tumblr has a number of blogs that are either dedicated to or use a large amount of Esperanto, but one of the best places to go if you are looking to contact with fellow Esperanto-ers is actually Reddit. There are numerous Reddit threads and Subreddits for Esperanto, and these in turn provide you with links for other resources that you might not have even considered. Vlogger Evildea posted on a subreddit offering World of Warcraft tutorials in Esperanto, and Reddit user Mooseader has produced a number of small phone app games purely in Esperanto as well.
Feeling hopeful...
We come away from investigating the available Esperanto resources cautiously optimistic. Although it has been a somewhat hit and miss search, we think we have discovered enough to help those who are interested in finding out more, and want to converse in and practice using this intriguing constructed language.
Next time we will be taking a look at that sporadic use of Esperanto in some of our favourite pop culture. Until then, Ĝis poste!