Language Maestros: Roald Dahl
"Tremendous things are in store for you! Many wonderful surprises await you!"
- Willy Wonka and the Chocolate Factory, Roald Dahl.
Perhaps you know the above quote from the Gene Wilder or Johnny Depp films, or maybe you have read it for yourself in this fantastic book. And if you don't know it, then welcome along to the fantastic world of Roald Dahl.
Roald Dahl wore many hats throughout his life, as novelist, short story writer, poet, screenwriter, and fighter pilot. But it is his stories, and therefore his language, that remains our fondest memory of this incredible man today.
From The Witches and James and the Giant Peach, to Revolting Rhymes and Boy, Dahl's catalogue of works has something for everyone. Dahl is so popular around the world, that his books have been translated into 58 languages, and his book sales are estimated to be around 200 million, which is on par with Tolkien.
This year sees the 100th anniversary of Dahl's birth, and to celebrate this there will be the release of a Gobblefunk dictionary. For those not already familiar, Gobblefunk is a language created entirely by Dahl, and used throughout many of his books - it is probably most familiar from the BFG.
Here are some of our favourite words that Dahl has contributed perhaps not to our everyday speech, but nevertheless have enriched our language and allowed Dahl fans to slyly acknowledge one another. Or to relive their childhood again. Enjoy!
Gremlins
Okay, so the first word we think of when we think of Gobblefunk is not, technically, a Gobblefunk word. But hear us out. Although most people consider James and the Giant Peach to be Roald Dahl's first children's novel, it was actually a book called Gremlins. If that sounds familiar, it should, because Steven Spielberg's film of the same name is actually loosely based on it. For those interested in the word's origin, this was an expression used by the RAF during World War Two, describing mechanical failures in aircraft.
Scrumdiddlyumptious
Now this word has, at least in some circles, actually made it into everyday speech, albeit in a tongue-in-cheek kind of way. It means something that is either really delicious or really marvellous, and appears both in the BFG and Willy Wonka. In fact, imagine our delight when we realised we could actually buy a Scrumdiddlyumptious Wonka Bar.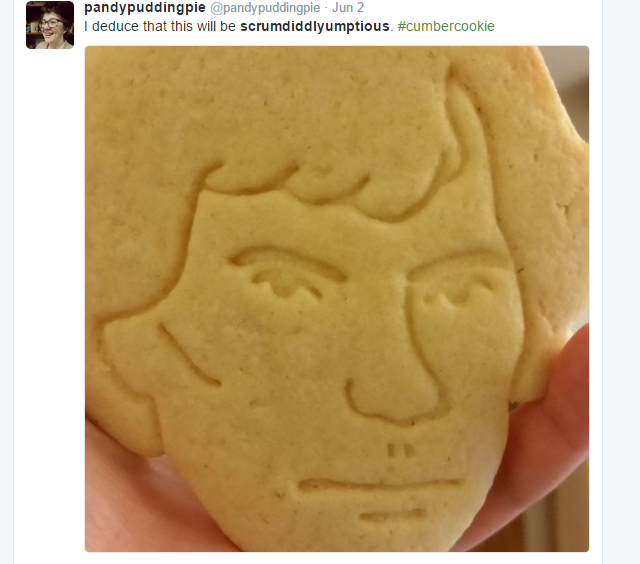 Filthsome:
Filthsome is a lovely word that just seems to slide off the tongue, and also feels as though it is one that should be used more often. Translated from Gobblefunk this means yuck, and we are somewhat disappointed that it hasn't already made an appearance in Urban Dictionary. Or are grateful that our childhood has yet to be fully tainted.
"Just this once," the Bloodbottler said, "I is going to taste these rotsome eats of yours. But I is warning you that if it is filthsome, I is smashing it over your sludgy little head!"
- The BFG
Learning a new language? Check out our free placement test to see how your level measures up!
Swigpill:
Another word that seems somehow missing from the English language. Okay, so it is just a mix up of synonyms from pigswill, which is how many a Gobblefunk word was created. Pigswill is the kitchen refuse and scraps fed to pigs, so it seems only natural that Swigpill would mean food that is disgusting. We are excited to see it in use in the dramatisation of The BFG this summer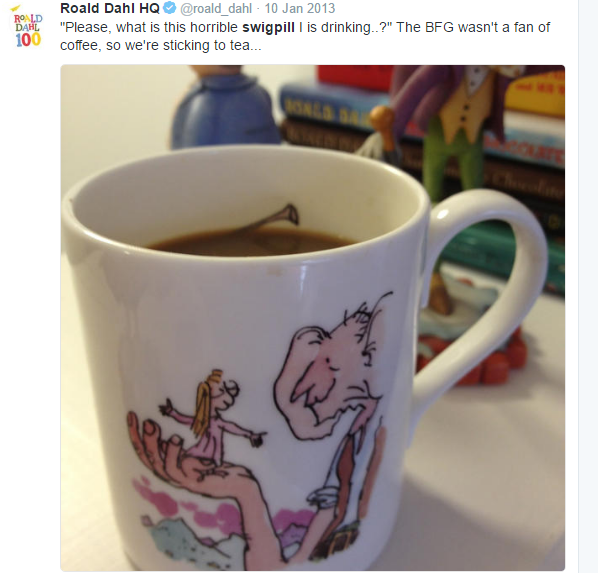 Jiggered:
This word is, in fact, used by some in their daily conversation. It has multiple meanings: there is no hope, as an exclamation, and also to express tiredness (think of it as a polite way to say 'I'm buggered'). It has also recently become a word to describe getting drunk. We are not sure that was Dahl's original intention, however, if the word fits the language then who are we to protest?
"No, Majester," the BFG said. "Not on my nelly."
"Then we're jiggered!" cried the Army General.
"This is ridiculous!" cried the Air Marshal.
- The BFG
Frightsome:
If you can begin to see a pattern in Gobblefunk words, then we applaud you. For it seems that adding some to a word is a bit like adding emphasis. In this case, something is not merely frightening, but very frightening. Which leads us to one of our favourite quotes yet:
Muggled:
Long before J K Rowling coined the term Muggle to mean anyone of the non-magical community, Dahl used the word muggled to describe being confused. We wonder if, then, being very confused would be to be mugglesomed?
We repeat, this word is not to be confused with muggle: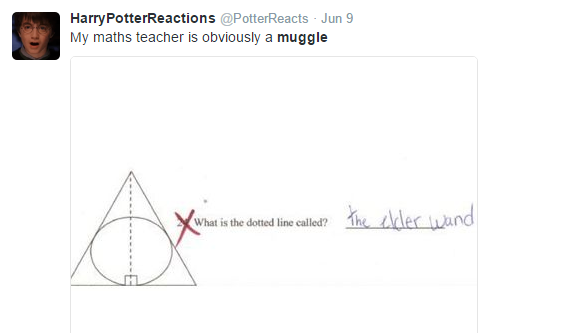 Bopmuggered/Crodsquinkled/Fluckgungled/Gunzleswiped/Swogswallowed/
Splitzwiggled
We get the impression that either Roald Dahl was a very difficult child always getting into trouble which somehow translated into his books for children, or he was generally a mischievous sort, and always getting caught doing things he should not have been doing. Because these six words all have more or less the same meaning: caught. We intend to use them ourselves next time we get into trouble…
Ucky-mucky
This one means messy, both in terms of, 'this could be a messy situation for you', and 'this is messy.' We like it a lot.
"You will be coming to an ucky-mucky end if any of them should ever be getting his gogglers upon you."
- The BFG

Hopscotchy
This word puts a smile on our faces, and there is a good reason for that. It means to be cheerful, to experience things that make us happy. Not to be confused with the playground game, of course, although that also makes us quite happy too.
"Whenever I is feeling a bit scrotty," the BFG said, "a few gollops of frobscottle is always making me hopscotchy again."
- The BFG
*Rotsome
Our final favourite Gobblefunk word is rotsome, meaning rotten. We see no reason for it not to be used in our day to day speech:

We hope you have enjoyed this little trip down memory lane with one of our favourite language maestros! Join us next time when we look at some of the words of Dr Seuss that have influenced our daily speech.