Off the Beaten Path: A Back Road Guide to Spain's Most Interesting Regions
Spain is a country of contrasts, a brilliant blend of culture and longstanding history that distinguishes it from the rest of Europe. The Atlantic Ocean hugs the northern peninsular coast while towering mountains meet the pristine Mediterranean along the eastern side. And clouds generously shower the northern Basque Country, while southern Andalucia enjoys near constant sunshine.
The country is a backpacker's paradise—a dazzling mezcla (mix) of heritage—and though there are tour books full of typical places to visit, Spain is abundant with not-so-standard places to go and things to see. Here are a few of our recommendations for two specific regions of the country:
Andalusia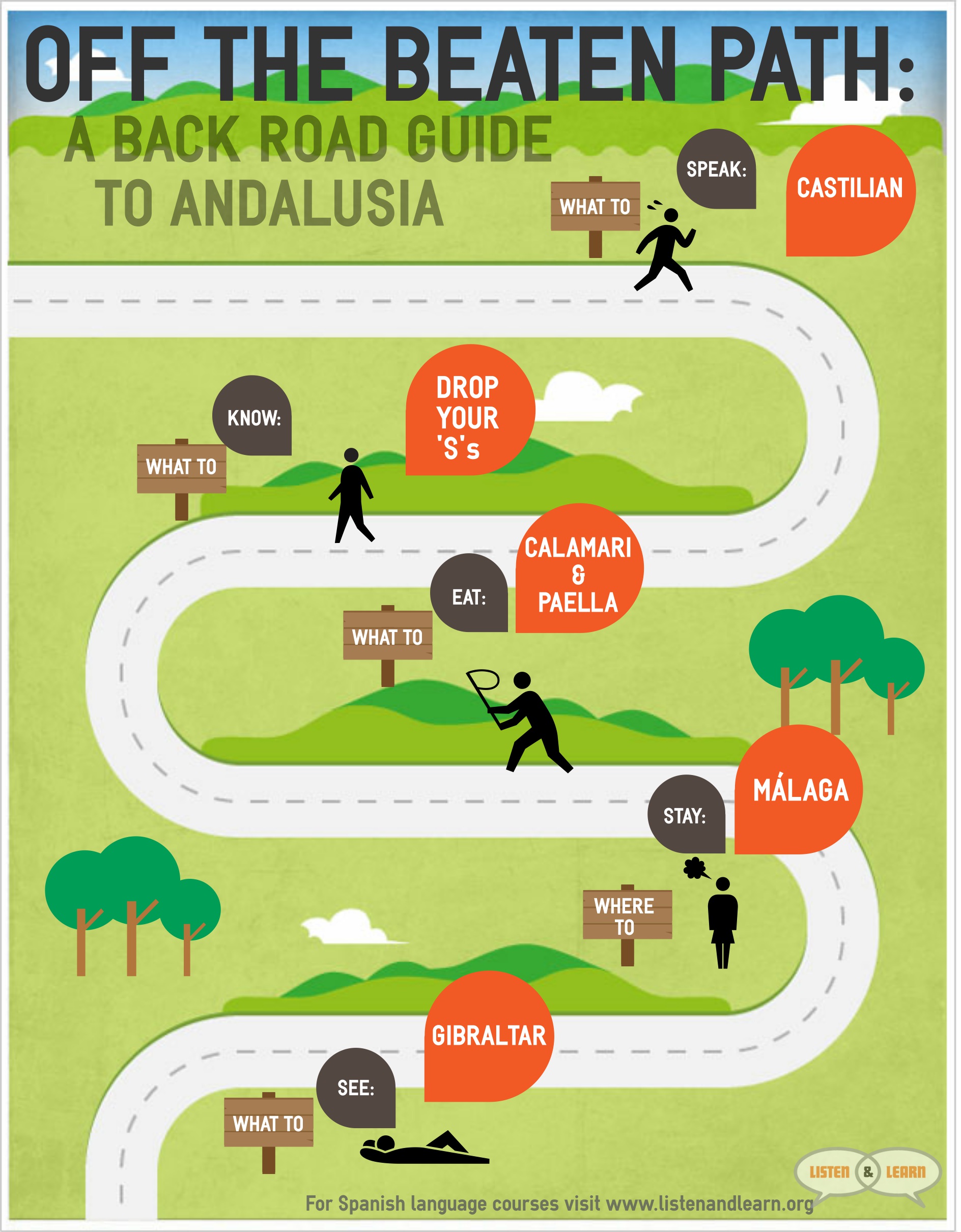 ¡Bienvenido a España! That's what it feels like, anyway, when you first step foot in Spain's southernmost region: Andalucia. The warm air greets you as you wander along crowded Spanish calles (streets), men—young and old—yelling, 'guapa' (beautiful) at pretty-faced, exceptionally dressed women that speak loudly and emphatically to one another.
Whitewashed walls cast the streets in cool shade and plazas teem with people basking in the sunshine amid friends and family. One of 17 autonomous communities that comprise the peninsular nation, Andalusia embodies el espíritu español (the Spanish spirit).
What to speak
Castellano - Castilian
Inhabitants of Andalusia, Andaluces, speak Castellano, or Castilian Spanish, the proclaimed standard dialect of the language. But its geographical proximity to Morocco and its long history of influencia árabe (arab influence) has had an impact. Arabic words have crept into the everyday speech of Andalusians, which does not reflect the rest of the country's lexicon.
Even more noticeable is the peculiar phonology revealed in Andalusian Spanish, asnatives frequently avoid the pronunciation of 's'.
There are a lot of words in Spanish with 's' in them.
Though frustrating at first, as más o menos (more or less) becomes ma o meno, you'll soon fall in love with the seemingly lazy style of speech, and if not, at least you'll be able to understand any Spaniard anywhere.
What to see
Enter Gibraltar.
Hop on a bus, or hire a car from one of Andalusia's cities, and be sure to witness the spectacle that lies at the tip of the Iberian Peninsula. You'll cross what appears to be a national border and find yourself staring at a mountain locals call "The Rock".
Tour buses line the streets to take you up the steep incline and see wild monos (monkeys) lounging against the stone walls of an ancient Moorish castle. And it keeps getting interesting! Because of the British influence, llanitos (Gibraltarians) speak flawless English with British accents, occasionally drifting into a Spanglish-like dialect dubbed llanito, which involves borrowing terms and phrases from both languages.
Here Pepe Palmero and Lionel Perez show you how it's done:
Where to eat
You just can't beat Spanish food. And fortunately for the budget traveller, Spanish food is low-cost, high return in Andalusia.
Meander the streets of Málaga – voted 'best city to live in Spain' – and head to El Tapy. Order a pitcher of tinto de verano (red wine with lemon soda) and enjoy the generously portioned free tapas that come with it.
Or wander along the beach until you spot a line of chiringuitos, small restaurants serving freshly caught calamares (squid), boquerones (anchovies), and classic saffron-infused paella.
Where to stay
Andalusia is a popular destination for turistas looking for the embodiment of la cultura española, and while you can certainly post up at Málaga's 5-star Vincci Selección Posada del Patio for a measly 300 euros per night; the city's lively streets offer more affordable options as well.
Check out Oasis Backpackers Hostel for lodging that won't break the bank. Located in Málaga as well as other cities (Granada, Sevilla, Toledo) the 'party hostel' guarantees a great time, and offers guests pub-crawls, walking tours, and a host of other activities.
Extra Tip!
Quick language tip: do not confuse the Spanish hostal (pension) to mean hostel or you'll have a very difficult time finding your accommodations for the night.
El país vasco - Basque Country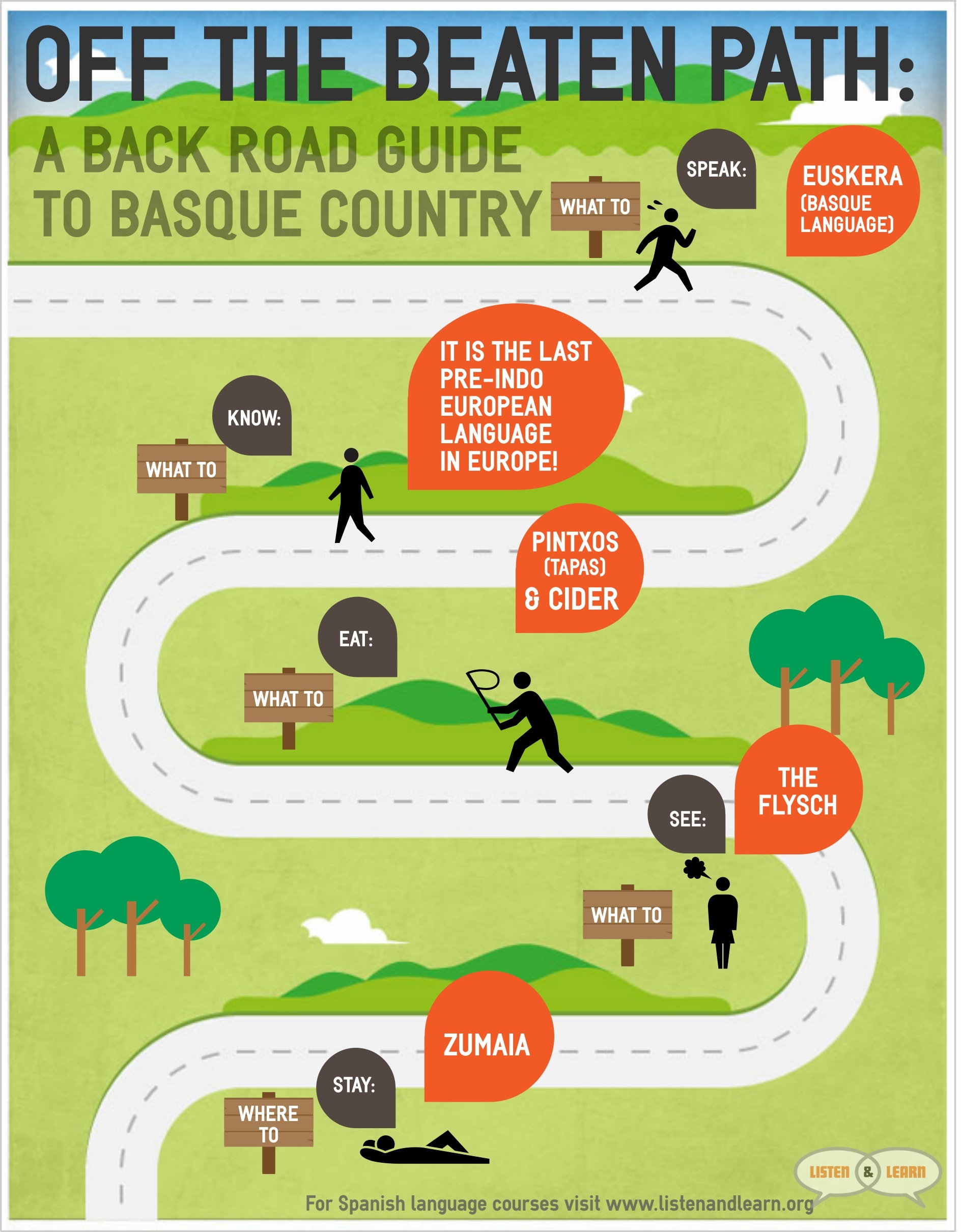 El país vasco (the Basque Country) or Euskadi as it is called in euskera (the local Basque language) is a stunning expanse of land boasting towering mountains, lush valleys, and a stunningly beautiful Atlantic coastline.
An area united by a rich and complex cultural history, Euskadi is an emblem of diversity in the widely varying landscapes of Spain.
It is important to note that the term Basque Country refers to two things in Spain:
the autonomous community recognised by the Spanish government and the wider cultural jurisdiction that is home to la gente vasca (the Basque people).
Because we aim to enlighten you with cultural information rather than political logistics, we refer to the latter definition.
What to speak
As aforementioned, Euskadi is home to the Basque people, a small population that inhabits northern Spain and part of southern France. Like many areas in Spain, they possess a unique cultural history, but the local language is perhaps the most intriguing quality.
With no conclusively known language relations, euskera (Basque language) is the last Pre Indo-European language in Europe, and arguably the world.

What to see
Euskadi is, in and of itself, a destination that is considerably "off the beaten path" when it comes to tourism in Spain. Compared to the tourist traffic that floods major cities like Barcelona and Madrid, it's fairly unexplored.
BUT, if what you desire is an authentically nonstandard holiday, a must-see is the town of Zumaia. Make your way to la playa (the beach)—either Itzurun or Santiago—and let your eyes feast on the geological phenomenon known as the Flysch. One of the longest continuous rock strata in the world, you can hike along the cliffs, which make up a short piece of the Camino de Santiago (Pilgrimage of St. James), a world-famous pilgrimage to the Cathedral of Santiago de Compostela in Galicia.
What to eat
Pintxos.
Pintxos, pintxos, pintxos. The Basque Country's tapas are called pintxos or pinchos (meaning thorn or spike) and are traditionally shared among friends in a bar setting. Meant to be a small snack, they facilitate an aura of community and encourage loved ones to spend quality time and engage in meaningful conversation with one another.
El vino (the wine) in Euskadi and the surrounding areas is simply divine, but for something a bit less common, try the Basque sagardoa (cider), a local specialty.
Where to stay
If Zumaia is the place for you, rent a place to stay only 3 km away at La Casa Rural Jesuskoa. Fairly priced and only 20 minutes from San Sebastian, it's the perfect place to appreciate the quaintness of this little seaside town.
Extra Tip!
Major cities like Bilbao and San Sebastian are well worth a visit, but to get the full 'off the main road' experience, alquile un coche (rent a car) and wind along the coast, visiting quaint Basque villages and truly enjoying the unrivalled scenery.
***
When you're travelling a bit off the beaten path, it's important to be able to communicate, and despite the varying languages and cultures, it's safe to assume that any citizen you come across speaks Spanish. Test out your language skills with our Spanish Level Test, or brush up on your knowledge and find a Spanish speaking tutor near you!