Orient Yourself: 10 Things to Know Before you go to Japan
If you're a stranger to Asia there will be quite a few cultural differences you'll notice when you get there, but a good grasp of the language will help you no end – as well as taking notice of these top ten tips!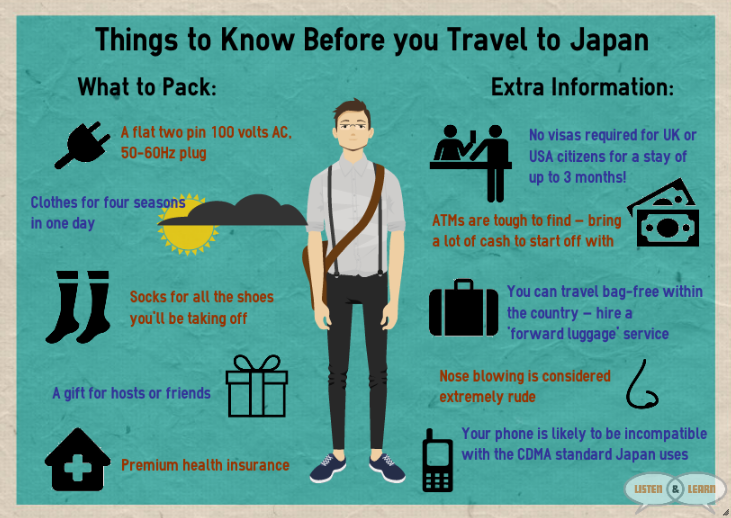 What to Pack:
1. Get Connected
Most of the sockets in Japan are compatible with a flat two pin 100 volts AC, 50-60Hz plug, which is also commonly found in the US, but not so much in the UK. A plug converter can solve this problem so pick one up before you go – they charge extortionate prices for them at the airport.
2. Four Seasons In One Country
If you're going to be travelling the length and breadth of Japan bring clothes for all seasons as the country spans 20 degrees of latitude and the varying climate shows that.
Depending on the season and where you're at, you may encounter monsoons, typhoons, heat waves, and snow – from the highs to the lows. But you'll also be well advised on the weather conditions by the locals as it's a hot topic all over Japan.
3. Sock It To 'Em
Take plenty of easy to remove shoes and clean socks with no holes in because you'll be taking your shoes off all the time!
A widespread custom in Japan is to take your shoes off when you enter a home. In fact most buildings, and in most cases there will be slippers provided or in worst case scenarios something that resembles a pair of Crocs!
4. The Gift Of Giving
The art of gift giving is a complex tradition in Japan, where a simple faux pas can upset both host and guests, and cause for awkward silences all round. One thing that always goes down a treat is gifts from home – no matter how silly and tacky you think they are.
Everything from Union Jack flags to royal family tea spoons to London Bridge key rings will be greatly appreciated, but to really impress, give gifts with Harrods branding on it – you'll have instant respect, whatever it is!
5. Health & Safety
It's a good idea to get a high price premium medical insurance cover because health treatment is very expensive in Japan, and medical facilities have been known to refuse treatment for visitors that aren't insured.
Bonus Information:
No Visa Required
If you're heading to Japan from the UK or the USA you're good to go without any extra stamps in your passport – for three months anyway. You can get this extended up to six months by officials, so keep an eye on the time!
Fast Cash Is A Bit Slow
For such a technically advanced society finding an ATM machine is a bit like a treasure hunt.
Even in shops and restaurants it can be a bit of a lottery, so it's a good idea to take hard cash with you for the first few days, and when you find an elusive ATM machine over there, make the most of that withdrawal opportunity… it may be your last for a while!
Send 'em Packing
A really handy service when you're travelling around Japan is the forward luggage companies, so you can travel bag free and arrive at your destination with your things awaiting you – or at least not far behind!
You can send your bags from hotel to hotel or to the main airports, and in most cases it's an overnight service and relatively cheap, but you pay per item so it's a good idea to take one large bag rather than two medium ones if you're going to use this service.
There are plenty of companies that provide this service, and airports and hotels can point you in the right direction, but the most popular one is Yamato Transport.
Bless You
Don't take a cold with you, because sneezing and nose blowing is considered the height of bad manners, although sniffing is acceptable. Don't be surprised by the number of locals wearing surgical masks either – if you want to get on the bandwagon, you don't need to bring your own mask with you, you'll find plenty available over there!
Hold The Phone
If you're planning on taking your phone to Japan, think again. UK, and indeed most of the world use the Global System for Mobile communications standard (GSM), but Japan uses a CDMA version which is not compatible so it won't work.
Even if you have a CDMA phone you'll need it to use 2100 MHz band, and then if that's the case, it's a lot cheaper to get a SIM card with an assigned number than the very expensive global roaming alternative – or just leave your phone at home and enjoy your holiday!
Japan is a fantastic country to visit, and the people are lovely, especially when visitors make an effort with their language – so book a course near you soon, then book those flights and it's さよなら (sayonara!) to you.