Essential Restaurant Phrases in French
There's no doubt that French cuisine is considered some of the best in the world. In France, food is more than just a necessity—it's a way of life. From simple farmer's markets to Michelin-starred restaurants, the country is full of culinary delights. If you're planning a trip to France with ta chérie (your significant other), learning some key restaurant phrases in French will help you make the most of your experience.
→Sign Up Now: Free Trial French Lesson With a Native Teacher!←
Here are some essential French expressions about food and gastronomy to get you started.
French dishes you don't want to miss
No matter what region of France you find yourself in, there are certain dishes you just have to try. Here are some of the most iconic French foods:
Le pain perdu
This delicious literally translates to "lost bread," but don't let that deter you—it's simply a French name for bread pudding. Le pain perdu is made with stale bread that's soaked in milk, eggs, and sugar, then pan-fried and served with caramelized apples or other fruit.
La tarte Tatin
This upside-down apple tart is said to have been invented by mistake at the Hôtel Tatin in Lamotte-Beuvron, France. The story goes that the Tatin sisters were making a traditional apple tart one day when they ran out of time. In a hurry, they placed the dough on top of the apples instead of under them, and baked it in the oven. The result was an unexpectedly delicious tart with a crispy pastry and soft, caramelized apples.
Les crêpes
Thin pancakes that can be either sweet or savory, crêpes are a staple of French cuisine. They're traditionally made with wheat flour, milk, eggs, and butter, and can be served with anything from Nutella and bananas to ham and cheese.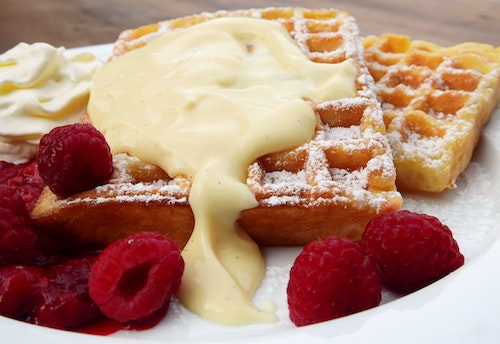 Le pot-au-feu
This classic French stew is made with beef, carrots, potatoes, and other root vegetables. It's usually served with a side of crunchy baguette to soak up all the delicious broth.
La ratatouille
This Provençal dish of stewed vegetables originates from Nice, France. Ratatouille is typically made with tomatoes, zucchini, eggplant, peppers, and onions, and can be served either hot or cold.
Bouillabaisse
A seafood stew originating from the port city of Marseille, bouillabaisse is traditionally made with a variety of fish, shellfish, and vegetables. It's usually served with a side of bread and rouille, a mayonnaise-like sauce made with garlic, chili peppers, and olive oil.
French words for people who work in a restaurant
In places like Spain, people who serve food for a living are always called meseros, regardless of whether they work in a coffee house, in a pub, or in a fancy restaurant. In France, the people who work in a restaurant have specific titles and roles.
Before moving on to some essential restaurant phrases in French, here are some common French words for waiters and other restaurant staff:
Le garçon de café
The coffee boy or runner is responsible for bringing coffee to customers and taking care of other small tasks.
La serveuse
The waitress is responsible for taking orders and serving food.
Le chef de rang
The head waiter is responsible for overseeing the waitstaff and making sure everything runs smoothly.
Le commis de salle
The junior waiter is responsible for taking care of customers and helping the head waiter.
Le maître d'hôtel
The head of the restaurant, the maître d'hôtel is responsible for greeting guests, seating them, and making sure they have a good experience.
Le sommelier
The wine steward is responsible for selecting, ordering, and serving wine in a restaurant. They may also make recommendations to pair specific wines with dishes.
French words for different types of restaurants
In England, you can eat in a restaurant, in a gastropub, or in a pizzeria, to name a few. In France, there are also different types of restaurants, from casual bistros to Michelin-starred eateries. Here are some common French expressions used to name different types of restaurants in France:
Le bistro
A small, casual restaurant that typically serves simple dishes like salads, sandwiches, and pasta.
La brasserie
A bit fancier than a bistro, a brasserie is a casual restaurant that serves French classics like steak frites and bouillabaisse.
Le restaurant gastronomique
The most formal type of restaurant, a gastronomic restaurant is typically Michelin-starred and serves haute cuisine dishes.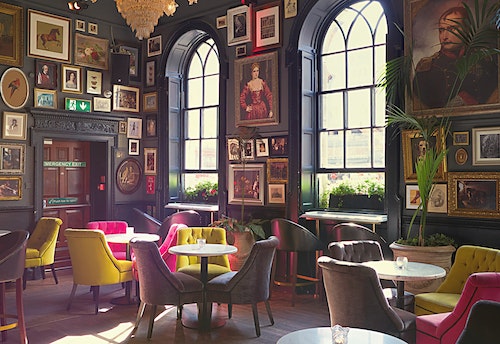 Le café
A coffee shop that serves pastries, sandwiches, and coffee.
Key restaurant phrases in French
When you visit a French restaurant, it's really fulfilling to be able to use the French language to communicate with the staff. You can order food and drinks, ask for recommendations, and make sure that everything is to your liking. It's a great way to practise your French and learn more about French culture. Here are some useful restaurant phrases in French that you can use in a restaurant setting:
Je voudrais une table pour deux, s'il vous plaît.
I would like a table for two, please.
Un menu, s'il vous plaît.
A menu, please.
Je voudrais commander…
I would like to order…
Je voudrais prendre…
I would like to have…
S'il vous plaît, apportez-moi…
Please bring me…
Qu'est-ce que vous recommandez?
What do you recommend?
Je ne sais pas quoi choisir.
I don't know what to choose.
Quelle est votre spécialité?
What is your specialty?
C'est combien?
How much is it?
Il y a un problème avec mon ordre.
Something is wrong with my order.
Je voudrais une autre…
I would like another…
J'ai terminé.
I'm finished.
Puis-je avoir plus…?
Can I have more…?
Où est la salle de bain?
Where is the bathroom?
Doing the grocery shopping
If you don't feel like going out tonight, you can stay at your Airbnb and try your hand at French cuisine. Here are some French phrases and words that you need to know if you're going grocery shopping in France.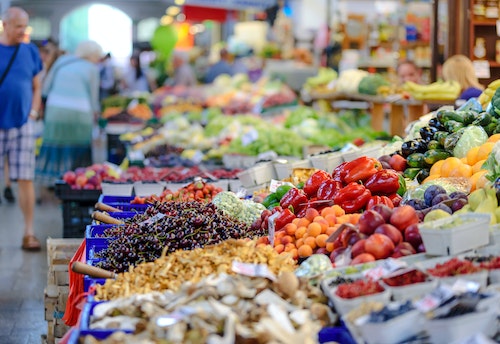 Les légumes
Vegetables
Les fruits
Fruits
La viande
Meat
Le poisson
Fish
Les œufs
Eggs
Le lait et les produits laitiers
Milk and dairy products
Le pain
Bread
La pâtisserie
Pastries
Les boissons
Beverages
Le fromage
Cheese
Je voudrais… kilos de…, s'il vous plaît.
I would like… kilograms of…, please.
Pouvez-vous me donner…?
Can you give me…?
Où est…?
Where is…?
Pouvez-vous me montrer…?
Can you show me…?
Je cherche…
I'm looking for…
Est-ce que vous avez…?
Do you have…?
Ce sera tout, s'il vous plaît.
That will be all, please.
Bonne journée.
Have a nice day.
With these essential restaurant phrases in French, you'll be able to navigate a French restaurant or grocery store with ease!
Learn French with Listen & Learn
As you can see, going to a French restaurant can be an extremely rewarding experience, not just because of the delicious food, but also because you get to use your French language skills. In this article, we've provided a list of useful restaurant phrases in French that you can use before, during, and after dinner, and we've also included some phrases that will come in handy while grocery shopping in France.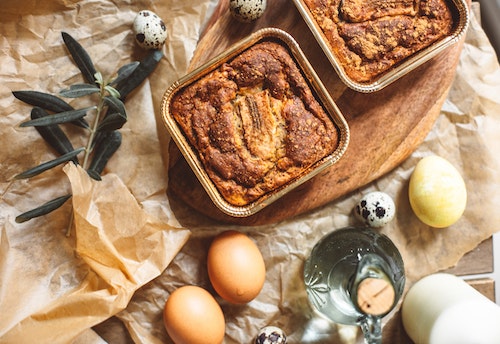 However, if you want to make the most of your time in France and be able to connect with the locals, you will need a lot of extra practise before your trip. Though French is definitely one of the most beautiful languages on Earth, it's certainly not one of the easiest. At Language Trainers, we work with native French teachers who are experts at providing learners lots of opportunities for genuine conversation and helping them achieve fluency much faster than they would with traditional methods.
→Sign Up Now: Free Trial French Lesson With a Native Teacher!←
Would you like to go beyond restaurant phrases in French take a free trial lesson with one of our qualified teachers? Just send us a quick message and we'll arrange a customised class for you. Meanwhile, bon appétit, and happy learning!