The 5 Best Activities for Tourists in Munich
Munich, or München to the locals, is the capital of Bavaria located on the river Isar and is a city rich in history and wonderful for travelling. Often bringing to mind beer tents and Oktoberfest, Munich has a lot more to offer. Here's a list of just some of the interesting things you can do while in the city:
1. Go surfing at Eisbach.
Eisbach is an artificial stream (more like a small river) that flows through the Englischer Garten, and has a somewhat unusual use: surfing. The waves are artificial and surfers flock there from near and far to surf in Munich's made-made surfing paradise.The weather doesn't matter to these hardcore enthusiasts either, as the Eisbach runs all year long. Be careful though, as this is not a place for beginner surfers, and the rocks and concrete used to make up the Eisbach can be dangerous. If you're not a surfer yourself, you can always take a walk through the gardens and stop to watch some incredibly talented people do their thing – like this guy, Maximilian Schwarzkopf, going for a night surf:
2. Check out a museum or two!
Munich has some of the best museums on offer, and most definitely one of the best art collections available in the Kunstareal (or art area) nestled at the center of the Munich museum scene.  Both the Alte and Neue Pinakothek offer works by Rubens, Cezanne and Van Gogh. The Pinakothek der Moderne, offers four museums in one, all focusing around modern art.  Keep your eyes open for works from Damien Hirst at Museum Brandhorst, a new addition to the Munich museum world.
3. Grab several beers at Red Hot Bar.
Munich is a city known for its beer festivals, though it's also a place of amazing craft brewery selections. Red Hot Bar offers a selection of Bavarian craft beers, along with an impressive list of international choices from America, Italy, the UK, and Belgium. Much like its beer selections, there's a mix on the food menu as well. You can easily indulge in German favourites, like bratwurst, or grab a rack of ribs or a pulled pork sandwich. A great place to hang out with friends, or maybe meet some new ones as this place fills up early. On the weekends come earlier to beat the crowds.
4. Grab a coffee (and a souvenir) at Café Marais.
If you're looking for a unique place to have a cup of coffee and contemplate Munich's history, look no further than Café Marais. It used to be a hobby shop of sorts and the owners of Café Marais left it just as it is, creating a very unique turn of the century feel to this little café. Located in the Westend, Café Marais is surrounded by boutiques and sets the scene for a charming kaffeeklatsch or a cozy spot to read a book. You can also buy some of the antiques on offer at the café, making it a unique place to pick up a souvenir or two.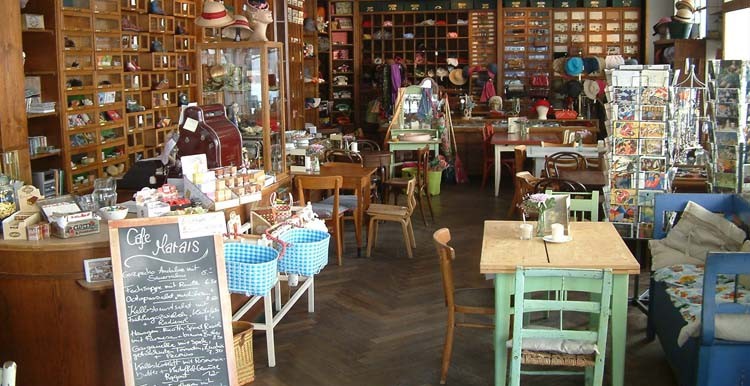 5. See the city by bike.
Munich is a beautiful city to see by bike, and there are many different tour companies offering a wide variety of distances and focuses. Mike's Bike tours offers tours that range from 2 hours to about 4 hours, as well as twilight/night tours and a 3rd Reich focused tour. You can book your tickets and check out all the have to offer here. Make sure to bring your camera with you, as you'll have time to see some of the most beautiful architecture and scenery on your way.
Want to experience Munich in German? Why not contact us and see our German course options near you! If Berlin is more your thing, check out the top-rated activities in Germany's other bustling city!