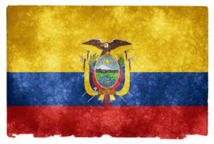 If you want to learn Spanish then there are some terrific cities in South America for doing so. From Buenos Aires to La Paz and from Santiago to Caracas you will find interesting places where you can have fun while learning.
However, I learned Spanish in Quito, Ecuador and it stands out for me as being a wonderful place to study for the following reasons:
1. The Accent Is Relatively Easy
I didn't even think about the issue of different Spanish accents until the day I was confronted by a fast-talking Chilean whose voice seemed to have been artificially speeded up before having the ends of all the words cut off. In fact, there is a massive variety of accents across the continent and in Ecuador you will find a pretty simple, neutral one to get you started. Spanish is a phonetic language and in Ecuador they speak it clearly, which is a great help.
2. There is Lots to Do and See
Ecuador is a compact country which has a lot to offer. If you are based in Quito then relatively short trips could take you to the famous market at Otavalo, the butterfly kingdom of Mindo, the hot baths of Baños and a lot more. Further afield, the unique Galapagos Islands offer a once in a lifetime opportunity to see weird species while nodding your head sagely and explaining that you now fully understand Darwin's theory of evolution.
3. The Food and Music
If you like loud music and filling food you will be in heaven in Ecuador. Salsa music is king here and after a while you will almost certainly feel your hips starting to slowly gyrate of their own free will. Don't fight the salsa. Cumbia music is also hugely popular but I found it to be absolutely appalling so feel free to fight it if you like. Another musical treat can often be found on bus journeys, in which some drivers have the habit of slipping on a CD of classic English songs translated in Spanish when they see gringos on board. I can't tell you what they put on when they are no gringos on board as, well, I have never been on board at this time. As far as the food goes, we need to talk about guinea pig. They call it cuy here and if you are up to it then you could try the unique delights of a cheerful rodent on your plate.  Otherwise, rice, beans and fish feature heavily in the local cuisine.
4. The People Are Approachable
When you are learning Spanish it helps to be surrounded by people whom you can talk to easily. I found the people of Ecuador to be a bit shy but very approachable. In a city like Quito they are used to tourists by now but once you head out to smaller towns you might find that it takes a bit of time to get them talking. However, the open and friendly nature of the people will shine through once you get chatting to them.
5. The Weather is Great
Finally, it is far easier to study when the sun is shining. Quito sits right on the equator at 2,800 metres above sea level. This combination means that it has a spring like climate the whole year round. Being able to sit in a park and conjugate your verbs while eating an empanada is a lot better than doing it in a hotel room and empanada-less.
If you want to make the most of your time in Quito it makes sense to learn a little of the language before you go, as this will let you hit the ground running. By taking a Spanish language test before you go you can find out your current level and build up your confidence before heading there.
What aspect of studying in Ecuador sounds the most tempting to you?