5 Misconceptions About the Spanish You Need to Forget
Stereotypes are everywhere, from the Frenchman with onions around his neck to the American without a passport. The Spanish are no exception and have their fair share of pre-conceived ideas to correct when visitors land on their shores.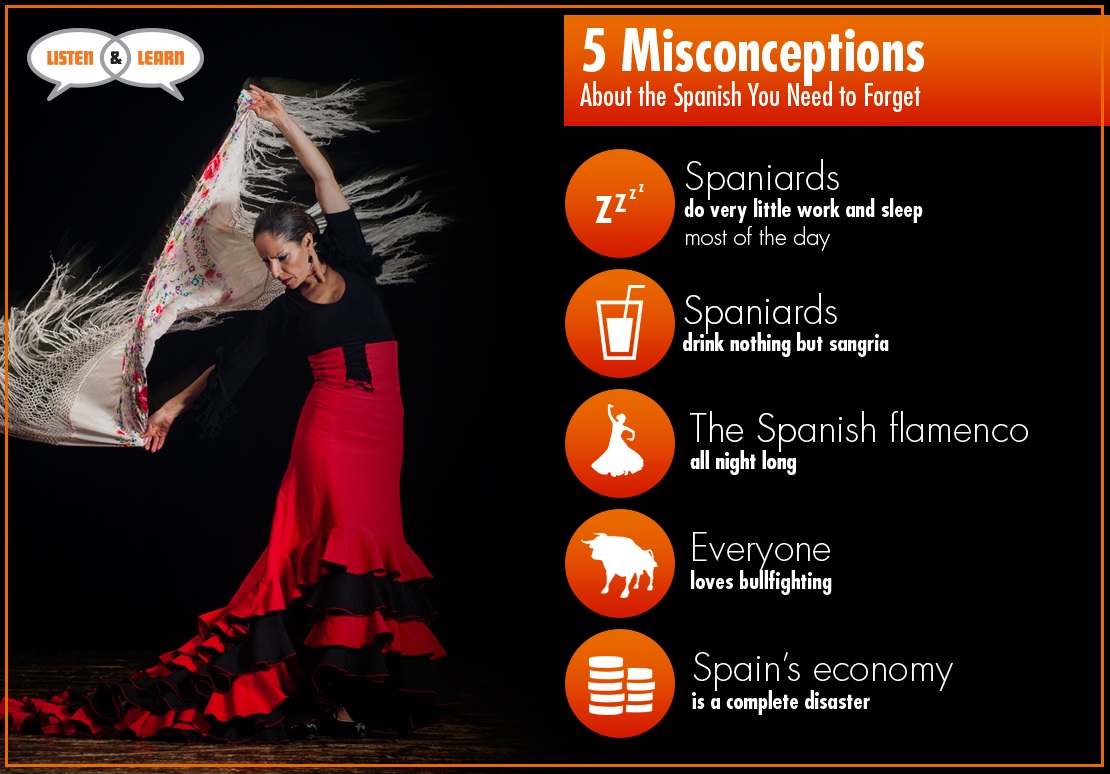 Here are a few things many people think about Spain and her citizens that turn out not to be true:
Spaniards do very little work and sleep most of the day
This is possibly the most common bit of nonsense spouted about the Spanish. In fact, according to OECD statistics the average Spanish working week is in line with other European countries and the average worker puts in more hours over the course of a year than people in countries such as Germany, Denmark and the United Kingdom. The siesta thing is also a misconception – fewer people take a regular afternoon nap, and those who do extend their working day to compensate.
Spaniards drink nothing but sangria
There's little point denying that the Spanish enjoy one of their traditional national beverages a great deal, but it's hardly all they drink. The Spanish wine industry is of course hugely popular, with the Rioja region in particular helping to make Spain the third highest-producing wine country in the world after only France and Italy. And have you maybe heard of Estrella and San Miguel? It seems Spain can knock out a decent beer as well.
The Spanish flamenco all night long
It may be a dance developed in the 18th century by the Romani population of southern Spain, but flamenco has become a truly global business these days. There are actually more flamenco academies in Japan than there are in Spain itself, and though there's no doubt the Spanish enjoy a juerga (an informal flamenco gathering) they can just as likely be found zoning out to trance music at the Megadisco Colossos in Girona or rocking out at the Loco Club in Valencia.
Everyone loves bullfighting
We can all picture the Spanish torero with his bright cape and silly hat, but the idea that Spain is a nation of bullfighters is growing old fast. With animal welfare becoming more of a priority in recent decades, the traditional sport has suffered a huge decline, exacerbated by the economic turmoil of the last few years as cash-strapped Spaniards abandon financial support for festivals involving bullfights. In 2012, Catalonia became the first Spanish region to ban bullfighting, though in reality it had been outlawed in eastern Spain years before.
Spain's economy is a complete disaster
Few in Spain would deny there have been some pretty dodgy headlines about Spain's economy since 2008. But all is not lost: the recession is over, unemployment is falling, demand is rising and growth forecasts are actually being revised upwards. Time to break out the sangria! Oh, sorry - or wine, or beer…
There are many more misconceptions about Spain and her people, from the myth that the beaches are filled with Brits all year round (OK, maybe that one's true) to the idea that Spain has the best football team in the world (be careful, touchy subject). Perhaps you should consider brushing up on your Spanish to make sure you can understand the real facts of this fine country when you have them calmly explained to you by a patient Spaniard.
Try our Spanish level test to find out your current standard and see whether you'll understand when someone explains that there's more on the menu than just paella!