Welsh, Guess It's Time To Brush Up
Bore da, prynhawn da, or noswaith dda (good morning, afternoon or evening, depending on when you are reading this!). Welcome to the wonderful world that is the Welsh language. Can you tell which word means good?
Maybe we have been binge watching Lord Of The Rings and have become entranced by the Sindarin spoken by the Elves. It is a known fact that Tolkien based his lower Elvish on Welsh, and that lilt has caressed our senses and made us ponder for ourselves on the use of this beautiful language today.
Stats, anyone?
The 2011 Census in Wales tells us that only 19% of the population identifies as a Welsh language speaker. A more recent survey by the Welsh Language Survey suggests that in fact only 11% of people living in Wales consider themselves to be fluent, while 23% can speak 'some' Welsh. We are not clear on how much some equates to, but these figures suggest that the Welsh language is not in as much use as we would like to imagine.
True, our imagination is known for wandering, and perhaps we are mixing up the lush trekking trails around Snowdonia with The Shire, as we picture running in and out of Hobbit holes with an Elf at our side and gently debating the virtues of Longbottom Leaf and Old Toby.
Welsh is a recognised language in Europe, it is an official state language of Wales, and it is in fact, law, to have Welsh available on the curriculum in Welsh schools. So what is happening with this beautiful language?
Serious stuff...
According to the Welsh Language Survey, the number of people with Welsh fluency has dropped by around 7000 over the last decade, yet there has been a slight rise in the number of people using Welsh on a regular basis, with around one in eight of the population using it daily.
The Welsh Assembly is investing a huge amount of money to promote the use of Welsh, and this impassioned speech by Wales Office Minister Alun Cairns at Cardiff University shows just how seriously the preservation of Welsh is being taken.
There was allegedly 'uproar' aimed at Gwynedd Council recently for having the audacity to allow the Ordnance Survey to list a location only in English as Black Rock Sands, instead of producing dual signage and adding Traeth Morfa Bychan.
And preservation of the Welsh language has even got tangled up in housing planning bills in Carmarthenshire, where Welsh language defenders express their concern about how housing developments will cause further language segregation.
If your Wales geography is lacking and you're wondering where any of these places are, here's a map.
And if you're concerned we've suddenly gone all political, well. For a moment there, so were we!
Learning a new language? Check out our free placement testto see how your level measures up!
Moving along...
Perhaps like anything that we need to keep relevant, and current, we need to put the preservation of the beautiful Welsh language into the hands of the leaders of our generation: the celebrities.
From the 50 coolest women in Wales to the Welsh Celebrity Power List, it is evident that Wales has a lot of potential voices there, should it want to promote its native tongue. Here are our three favourites:
Russell T Davies
True, perhaps Mr Davies is not a celebrity in his own right per se, but he has brought our attention to the stunning landscape that is Wales, by shooting both Doctor Who and Torchwood in the nation's capital, Cardiff. These shows have massively boosted the tourism trade for Wales, and generally made us excited for a place that perhaps many of us outside of the UK have never even considered visiting.
Taron Egerton
Firstly, if you haven't already seen Kingsman: The Secret Service, we urge you to rectify this mistake immediately (if for nothing else than to see Colin Firth being a bit of a kick-ass as Egerton's mentor of sorts). Secondly, talk about putting Wales on the map. Egerton is from a small village in Anglesey with an incredibly long name: here he is on Ellen pronouncing it for you.
Gareth Thomas
Already considered a hero as a British Lions rugby captain, in 2009 Thomas added to his heroic efforts by being the first professional sportsman to come out as gay. In the world of sport, where ableism, racism and homophobia has for so very long been almost accepted as the 'norm', Thomas paved the way for a number of celebrity sport stars opening themselves up to us, so that we could in turn open up a little ourselves. Here he is on Ellen (yes, she is our favourite chat show host, we do not apologise).
Welsh exposure
Social media is surely the pulse of everything that is happening around us today, and so naturally it begs the question: why can we not already use Welsh for Twitter, Facebook, and so on? Sure, there are Twitter accounts like @DailyWelshWords, but that is only a small contribution to what really should already be available for Welsh speakers and those interested in learning the language.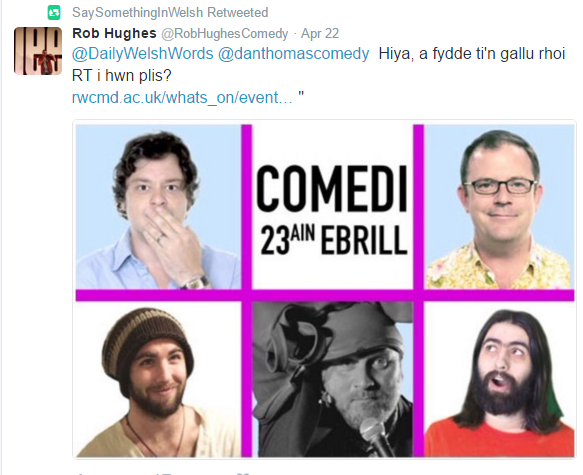 Instead of helping, the internet seems to actually be contributing to the loss of this beautiful language because Welsh is just not recognised enough online, and that makes us a little sad.
We have a suggestion for S4C, Wales' only fully-Welsh TV channel. Whilst we are sure that reality show Cariad@Iaith is a pretty amusing look at celebrities attempting to learn the Welsh language for themselves, how about having some of our favourite shows translated into Welsh, hmm? After all, three of the villains from Game Of Thrones are, in fact, Welsh, and if the Twitter feed of @walescomiccon is anything to go by, The Walking Dead in Welsh would be most welcome.
We understand the importance of Welsh-only programming, but giving it exposure to a wider audience surely can be no bad thing in terms of helping to preserve the language. We would be quite intrigued to see this show though: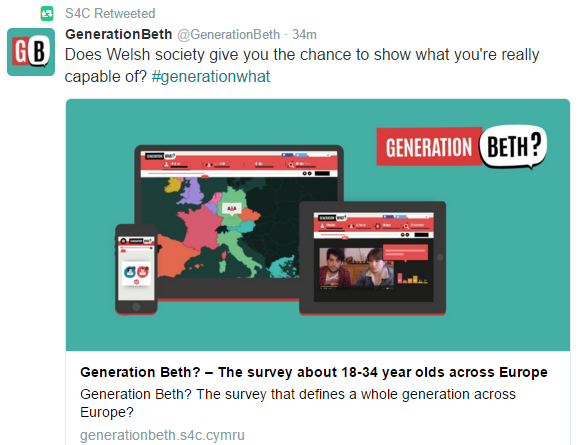 So, whilst the facts and figures on whether Welsh speaking is going up or down is somewhat ambiguous, maybe preserving the language needs to involve breathing life into it, rather than holding on to it like some cherished relic. Welsh is a beautiful language that just needs a little bit of a boost to get it 'out there'. If your interest has been piqued, how about a little visit to Wales itself? Over to Rhod Gilbert to entice you in a little further.
Y Ddraig Goch ddyry gychwyn! (The Red Dragon will show you the way)