Wine-Tasting Around the World (on a Budget!)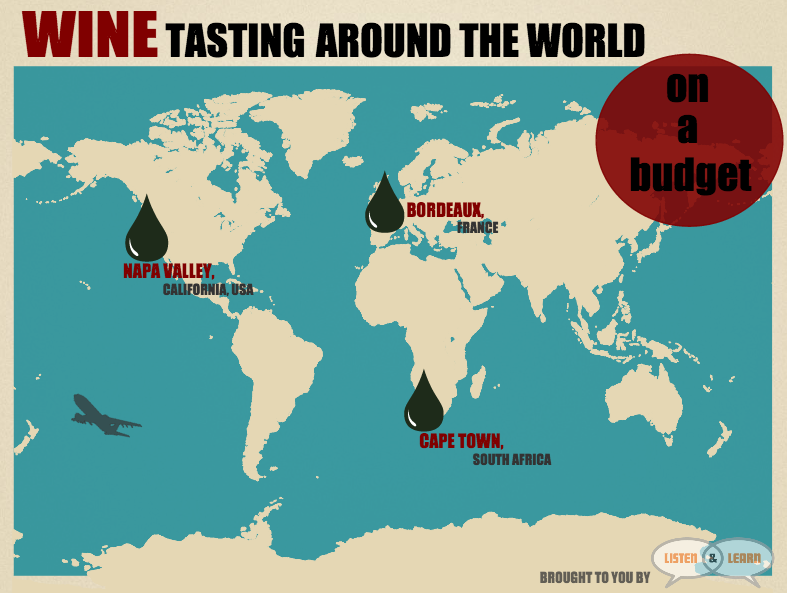 If one thing is adored across cultures, it is the undeniable delight of wine. Vineyards across the world devote themselves to producing the very best Sauvignon Blancs and Cabernets. But often times, the world of wine is also a world of prestige and privilege, and for those of us on a budget, steep prices are simply not feasible.
But herein lies the magic of wine tastings. Stop in at a few different vineyards, swirl the delightfully precious liquid around your palate, and you won't be afraid to check your bank statement at the end of your holiday. If you're a world traveller and find yourself fancying a glass of wine, check out these three regions!
Napa Valley, California, USA
The rolling hills of California are home to some of the world's best-tasting wine. Bright sunshine warms the fertile fields of hundreds of vineyards across the golden state, and if wine tasting is a hobby of yours, Napa Valley is the place to be. Though it only produces 4% of the state's wine, the region boasts quality over quantity.
Where to wine-taste
Napa Valley is widely recognised as a prime holiday destination, and often times the steep prices can intimidate a tourist on a budget. But worry not! Make a quick stop at the Napa Valley Visitor's Center and pick up some coupons for wine tours or tastings and a variety of other fun activities.
It's important to consider, however, that a long day of wine tasting makes driving home difficult and unsafe. Luckily, downtown Napa has several great tasting rooms that are all within walking distance. And for an even better deal, order a Downtown Napa Wine Tasting Card for only $30 and taste hundreds of wines at $0.10 a tasting.
Where to stay
As aforementioned, Napa Valley can be a pricey spot, and accommodation is no exception. You can certainly spend a fortune on a clean comforter and decent room service, but choose from one of these budget places and you'll be happy you did!
The Ivy Hotel - Napa: Indulge in the oasis of comfort that is the Ivy Hotel in Napa. Centrally located and just a few minutes walk from downtown Napa, the Ivy Hotel is in a prime location for anyone eager to explore the abundance that Napa Valley wine country has to offer. And for only $169 for a double room, it sure beats the sky-high prices with which you could be affronted.
El Bonita Motel - St. Helena: Named for its former owners, Elmer and Bonni, this roadside motel is a 'little gem just waiting to be discovered'. Incredibly friendly staff greet you as you cross the threshold into a unique art deco atmosphere. You can choose from three buildings for accommodation and enjoy a delightful breakfast every morning, all at the very best price. Only $79.99 during the week and $99.99 on the weekends, El Bonita can surely fit into your scheduled budget.
What to speak
Napa Valley is nestled in the foothills of California, and while it certainly does not require advanced knowledge of a language other than English, roughly 40% of people in the golden state speak languages other than English. With a large population of Spanish-speakers, it could be the perfect opportunity for you to practice your second language skills.
Test your current Spanish skills with our Spanish level test!
Bordeaux, France
Bienvenue en France! (Welcome to France!) The central European nation is home to some of the world's most cherished varieties of wine, and Bordeaux is surely no exception. Recognized as the le capital of the world's major wine industry and situated along the banks of the Garonne river, it produces roughly 960 million bottles every year.
Where to wine-taste
As the capital of the world's wine industry, it is no surprise that a trip to Bordeaux results in a much lighter wallet; however, there are a few tricks to the trade that might make your holiday a bit less expensive.
Dégustation (wine-tasting) is the perfect way to spend an afternoon gazing upon rows of perfect grape vines. But in Bordeaux alone, there are literally thousands of wine-producing châteaux (castles) and grape-growers. So where to begin? Check out the half-day guided tours and wine-tasting – it's only about €30! You'll hop on a bus and spend the day wandering through vineyards, discovering the rich heritage and culture of the region, and gaining insight on the delicate tastes of some of the most famous wine in the world.
Bonne dégustation!
Where to stay
Bordeaux is a stunning place. Referred to as la perle d'Aquitaine (the pearl of the Aquitaine), it has been producing vin de Bordeaux (Bordeaux wine) since the 8th century. Because of its fame and prestige, it can often be pricey to find accommodation, but ne vous inquiétez pas (don't worry), book a room at Hôtel de Sèze or its sister hotel, Hôtel Royal Médoc, where doubles start at only €60 per night!
If you're looking for something a bit less traditional, check out the incredible treehouses at Château de Mallere only 15 km outside of Bordeaux, where cabins for three start at €145 per night.
What to speak
The French language can be intimidating, but with the right tools you'll easily succeed in navigating the wonderful Bordeaux countryside. Jot down this list of handy phrases and vocabulary, and feel free to try our French language test or contact us to find a French tutor near you that can help you with the intricacies of the language!
du vin blanc - white wine
Je voudrais regarder la carte, s'il vous plaît - I would like to see the menu, please
Je voudrais commander maintenant - I would like to order now
Comme boisson, je prendrai du vin blanc - To drink, I would like some white wine
L'addition, s'il vous plaît - the bill please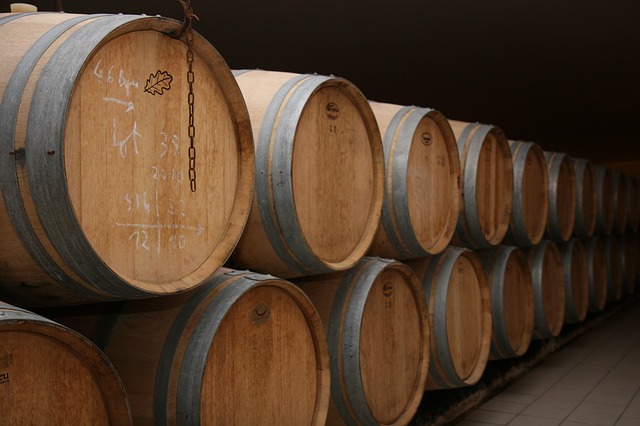 Cape Town, South Africa
The plateau-like peak of Cape Town's Table Mountain disappears momentarily beneath a blanket of fog, and the city and surrounding suburbs are cast in cool shade. There are limitless possibilities as a tourist in South Africa's Mother City, and even more lies just outside the city centre.
Where to wine-taste
Wander out of the hustle and bustle of the city centre and make your way south to the leafy suburbs of Constantia. Nestled among beautiful residences is the Cape's most intimate wine route, with nine distinctive wine farms. As the oldest wine-making region in the southern hemisphere, you can not only enjoy the award-winning blends, but also the rich heritage that each of the farms embody.
If you're working with a smaller budget, make sure to stop at Constantia Glen. With floor to ceiling windows that overlook the rows upon rows of grapevines, find a seat and enjoy the stunning view. Meanwhile, feast your palate on six varieties of wines produced at the farm, all for only R40 per person (or about $3.50).
Where to stay
If your main focus is wine, and wine-tasting for that matter, the perfect place to rest for the evening is a bit further outside of Cape Town – Stellenbosch. With more than 200 wine and grape producers within their boundaries, you can continue tasting and drinking to your hearts content.
The Kleine Zalze wine farm and lodge offers double rooms starting at only R1 360 (about $120). You'll enter the four-star establishment, be led to your room, and start the night off enjoying the complimentary bottle of in-house wine – and it is delightful! The setting is simply stunning, and you can spend your afternoons lounging in the sun and taking in the view of the vineyards, or drive a short distance to downtown Stellenbosch and enjoy all the town has to offer.
What to speak
South Africa is incredibly unique with regards to linguistic variety. With 11 national languages, including English, it is a nation of mixed culture, heritage, and tradition. Though English is widely spoken, Stellenbosch cherishes its Afrikaans roots, and throughout the Western Cape you'll stumble across many speakers of different languages.
***
The wine of the world is as diverse as the nations that produce it, and within each of them are the qualities that embody those cultures.
Author Robert Louis Stevenson wrote, "wine is bottled poetry," a sentiment that is quite clearly captured by the rows upon rows of grapevines that make up some of the most highly-esteemed vineyards in the world. So, travel the world, taste the wine, and absorb the heritage of the varying cultures across the globe that share the same passion for vino (wine) that you do. And if you want all that and more, you might as well try your hand at a new wine-friendly language – contact us for courses in Spanish, French, Afrikaans and more!