5 Reasons Why Everyone Should Live in Spain Once
A hot Spanish sun beats down on crowded cobbled streets where bronzed women saunter casually along in 4-inch heels.  Small children kick a football around a plaza lined with cafes and bars that teem with customers—despite it being the middle of the day and the middle of the week—sipping cafés con leche (coffee with milk), cañas (small glasses of beer), and tintos de verano (red wine and lemon soda).  The world seems to move by at breakneck speed, and yet on a hot, sunny, afternoon, the squares are full of Spaniards, boisterously yelling and playfully embracing one another.
Esto es España.  This is Spain.
It is a peninsular cultural metropolis in the south of Europe, an eclectic mezcla (mix) of myriad cultures that have made their way into the general consciousness of the average Spaniard.  A top tourist destination, there is plenty to do, and even more to see.  But the bounty Spain offers extends beyond the scope of the common tourist, and what better way to discover that bounty, than to live there?
Living abroad can be an eye-opening experience because it allows you the opportunity to expose yourself to new cultures and ways of life, while potentially furthering your professional and/or personal goals. And here are a few of the many reasons that Spain could be the place for you!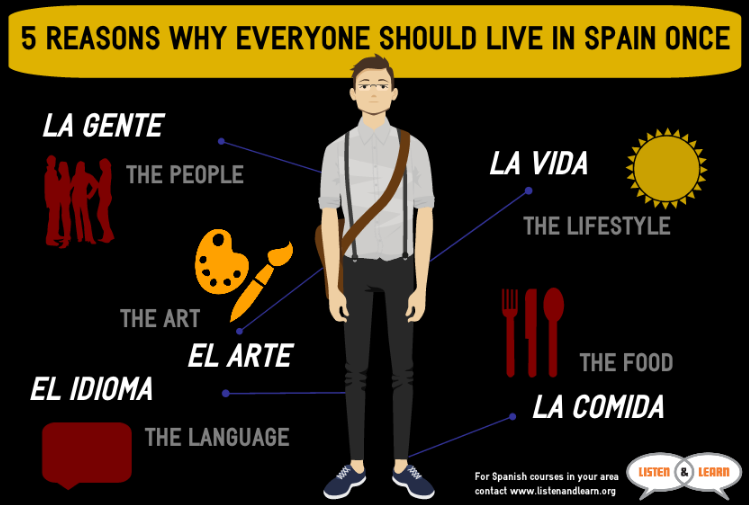 La gente – The people
Uprooting your life and moving to a foreign country can be immeasurably stressful.  Even with the comfort of familiar faces travelling with you, it can be difficult to adapt to new customs and learn new languages.
Luckily, the warmth, kindness, and cheerful generosity exhibited by most Spaniards, helps ease that transition.  Eager to please, and consistently helpful, Spaniards are known for their easygoing attitudes.  Having trouble articulating a thought in your newly acquired español? Keep trying! The Spaniards will be trying to understand, right alongside you.
La vida – The lifestyle
Perhaps what makes the Spanish people so easygoing, is their vibrant and relaxed lifestyle.  Take, for instance, the siesta. Everyday in Spain, roughly between the hours of 3 and 5 pm (though there are various inconsistencies depending on your location in the country) the working world comes to a standstill.  Almost every businessman, teacher, student, secretary, etc. leaves their workplace and returns home for a nice meal with their families and a period of relaxation.  They return to work (sometimes), relaxed and well rested, with full bellies.
Though conceivably detrimental to the economy, the siesta embodies the spirit of the Spanish lifestyle:
Enjoy your life, enjoy your family, enjoy your food.
And what better way to enjoy a year abroad than in a culture whose central focus is enjoyment?

La comida – The food
Speaking of the Spanish lifestyle, let's talk food.  Spain is a uniquely diverse nation, with 17 autonomous communities located within its borders.  Each of these regions boasts incredible distinctions regarding food; however an overarching concept that embodies the spirit of Spain is the idea of tapas, small portions of food meant to be shared among friends and families.
Food is a social event in Spain and an incredible opportunity for anyone interested in learning more about the languages, customs, and culture of the country.
El arte – The art
Spain has an astonishing cultural history and its inhabitants have made vast contributions to the canon of art.  Staying in the southern city of Málaga, Pablo Picasso's birthplace, or Barcelona, where you can find Gaudi's bizarre architecture, is enlightening and creatively inspiring. Or if you traipse over to Madrid you can admire a collection of some of the finest European art in El Museo Nacional del Prado, where you can take guided or audio tours.
If you prefer an appeal to the auditory senses rather than the visual, you can relish in the rhythmic pulse of Flamenco performances, as cantantes (singers) tragically recount stories of gypsies and lamentation. There are several sites that detail interesting venues to find genuine performances and absorb some of Spain's rich and diverse cultural history.
El idioma – The language
The magical sound of men, women, and children rattling off in one of the most beautiful and romantic languages in the world fills your ears and your soul as you meander along cobbled Spanish streets.
But aesthetic appeal is not the only value of the Spanish language. Worldwide, over 500 million people speak Spanish as either a native or second language, and according to a language projection study conducted by the US Census Bureau, that number is predicted to rise.  As Spanish use becomes more widespread, bilingualism and even basic knowledge of the language become increasingly valuable and relevant in the job market.
Perhaps most importantly, however, learning Spanish allows you to connect with native speakers on a significantly more intimate level.  It allows you to foster an appreciation for the varying cultures and people that speak Spanish, and transforms you into a more well-rounded and relatable human being.
Already know some Spanish? You can always try our Spanish language test and see if you need to study up a bit before you jet set off!
***
Spain is a magnificent place with unlimited benefits and educational resources.  It provides those who visit it with a unique understanding of the many cultures that make up the tourist hub, and instills in them a lifelong appreciation and adoration for the country, culture, and language. If you'd like to improve your Spanish language skills, or get acquainted with the culture before heading there, contact us to find a native Spanish speaking tutor in an area near you!