What to Know Before Studying Abroad in Spain
Studying abroad is an enlightening experience—it grants individuals the unique opportunity to immerse themselves in a new culture—and it can even be argued that it is the most effective way of learning a foreign language.
And you're considering it? Great! Maybe you're interested in total language immersion, or perhaps you simply crave the unknown – you lust for the adventure of living and learning abroad. Don't worry; we've been there.
Countries across the globe offer the excitement and rich cultural experience you dream of, but the peninsular nation of Spain is particularly unique.  With widely varying landscapes, abundant cultural diversity, and a high influx of international students—nearly 74,000 per year! —studying abroad (and living in Spain) can truly enhance your life.
***
Preparation, though, can be stressful and, at times, frustrating. So, if you've decided on Spain and need some advice about what to do next, check out our top tips:
Visas
Applying for a visa can feel formidable, but the process is fairly simple. The consulado (consulate)'s website lists all the requirements.  Wade through the heaps of information until you find the 'Student Visa' section, and take notes.
Okay so you know what's required, but...
The website notes that the processing time for student visas is approximately seis semanas (six weeks).  While you may receive your visa early, more than likely, you won't.  The Spanish government is notorious for its ineficiencia (inefficiency), thus many recommend submitting your application at least ocho semanas (eight weeks) prior to departure.
Finding affordable airfare
There are all kinds of theories about which days are best to purchase your tickets, but ultimately you just need to do some exploring on the web. Mid-week flights are likely the cheapest, and sites like SkyScanner, Expedia, Kayak, and Orbitz, are extremely helpful.
If you're planning in advance try AirFareWatchdog, a site that sends you an email when the flight you've requested drops below a certain price!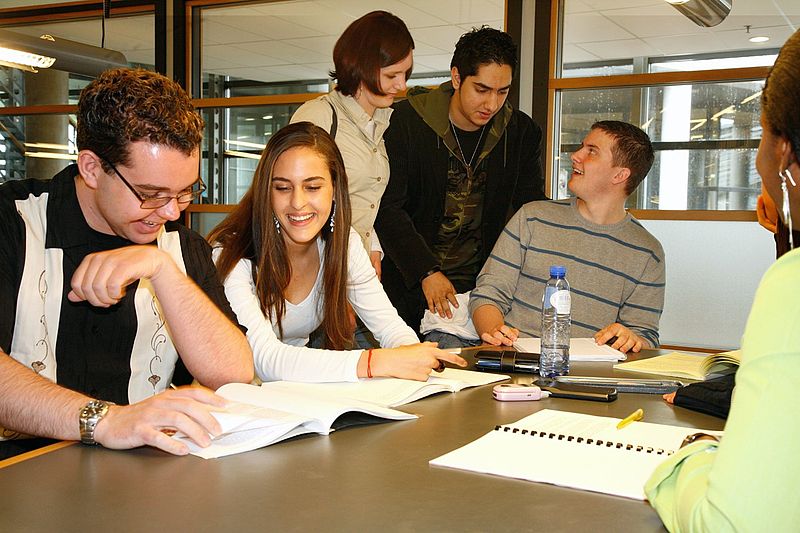 What to study and where
The beauty of studying abroad in España (Spain) is that you have choices in regard to where you go and what you study. With several highly esteemed universities in different parts of the country, it is important that you choose a program that suits your expressed interests.
That being said, there are two things you should consider when determining the purpose of your semester abroad: your current language level and your language or academic goals.
If you aren't sure about the status of your language skills, check out our Spanish Language Test!
These considerations are important first steps because not only do they dictate the tipo de programa (type of program) in which you enroll, but also adonde (where) you decide to go.
Málaga
Welcome to the entryway to the Costa del Sol, a strip of culturally explosive cities along Spain's southern Mediterranean coast. A popular European holiday destination, Málaga has far more to offer than a sultry Spanish sun and sweet-talking Spaniards.
Culture Courses in Spanish
La Universidad de Málaga (The University of Málaga) or UMA, is an esteemed university with nearly 40,000 enrolled students. To enroll in the culture classes you must first take a placement test and place into an advanced class. Ensure that your language skills are up to par, contact us and find a native speaking tutor near you, or check out the Spanish language classes we offer!
Barcelona
Ahh, Barcelona, sofisticada y metropolitana (sophisticated and metropolitan), this expansive ciudad (city) is home to the nation's highest ranked university: Universitat de Barcelona (UB). With nearly 70,000 enrolled students and 106 departments, it consistently welcomes a vast number of international students to its campus.
Academic Courses in Spanish
It is important to note that Barcelona and its famed university are located in Catalonia where two languages are officially recognised: Castellano (Spanish) and Catalán. Only 30% of the courses offered are in castellano, but no te preocupes (don't worry), there are still plenty to choose from!
Brush up on your Spanish!
Whether your primary goal is to learn Spanish or simply to use it in an academic context, brushing up on your language skills never hurts. If you're interested in getting acquainted with the culture before heading off or you would like to practice your conversational skills, take a look at where we offer courses and find a native Spanish speaking tutor in your area!